80+ Economics Assignment Topics For College Students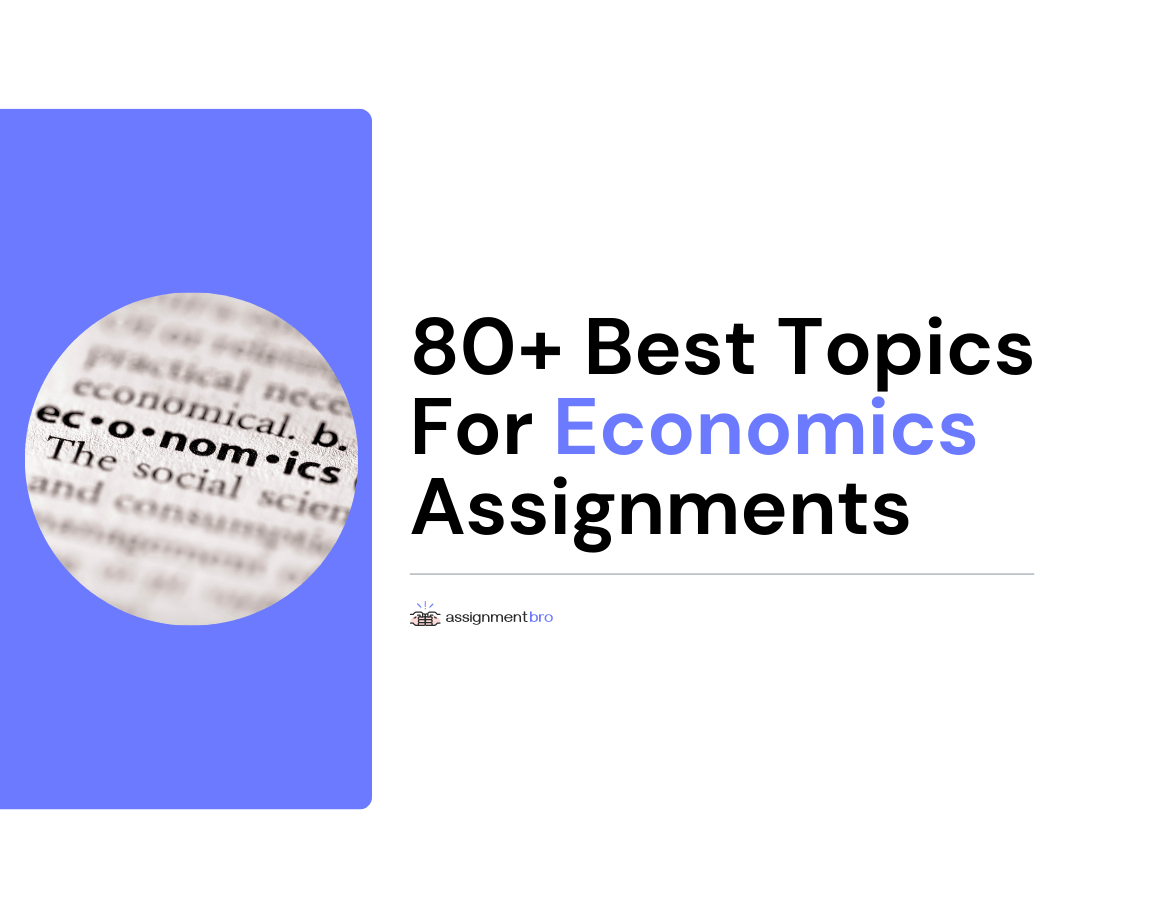 The Definition of Economics & Economics Assignments
Dealing with economics research topics, you must start with the basic definition of economics and determine what branch is taken by your subject of choice. In simple terms, economics stands for individual and social actions that lead to a person's well-being. Therefore, we have assignments that are related to macroeconomics and microeconomics, which are mostly related to households and particular units that we face daily. The governments work with the macro part of the economics. As a way to help you see the light at the end of the proverbial tunnel, we have presented over 80 fresh economics assignment topics you can brainstorm and use as the template and inspiration.
80+ Economics Topics Divided by Subject
💳 Microeconomics
This branch deals with the behaviour models by focusing on individuals that are representing single units or businesses that are not presenting national interests or take the scope of a large model. Here are great microeconomics assignment ideas to consider:
🌐 Macroeconomics
Macroeconomics topics relate to the big picture where one approaches the economy through the lens of the national projection and studies aspects like employment, national processes, income, poverty, disparities, and similar aspects.
💸 Mesoeconomics
This interesting branch of science deals with the intermediate sections of economics. You may focus on agriculture alone or the supply of musical instruments as an example. It will have to research infrastructure, brand registration, and all the related processes.
🏦 Digital Economics
These economics research topics focus on the use of digital tools and solutions to promote certain products and regulate banking and transactional processes by turning to electronic means of communication.
Your assignment can be completed in 3 hours!
Has your deadline come quicker than you expected? No worries! We have what you need – a 3-hours deadline option! All features available for any other order applied, including:
100% original assignment
Free formatting and reference list
24/7 online support
💼 Business Economics
Speaking of topics related to economics, you may pursue the business side of things by exploring ideas like these:
🏛️ Political Economics
Most processes related to economics are always influenced by political decisions, which is why it would be an excellent idea to combine economics and politics for your research writing.
🔗 Industrial Economics
You may take a general approach to industrial economics or focus on a particular sector where you can apply a mesoeconomic model. See these topics related to economics with an industrial touch:
🌎 Environmental Economics
It focuses on the importance of environmental care and studies the cause-and-effect issues. See these trending environmental economics topics:
How to Choose The Topic and Write an Economics Assignment?
Choosing a topic for your economics assignment may seem quite challenging, yet there are good ways to make things easier. Always start with a subject that inspires you by focusing on those branches where you can show your skills. Determine where your subject belongs and continue from there. You should narrow your subject either to a particular case study or to a time period where you can speak of the causes and the effects of specific economical processes. If it all sounds too challenging, you may buy economics assignment online and let a trained expert assist you with anything from topic selection to the final proofreading. Do not wait and think twice when you need urgent assistance because professionals are available 24/7! Economics is not an easy subject, so it's only natural to ask for help!