International Relations Topics for Assignment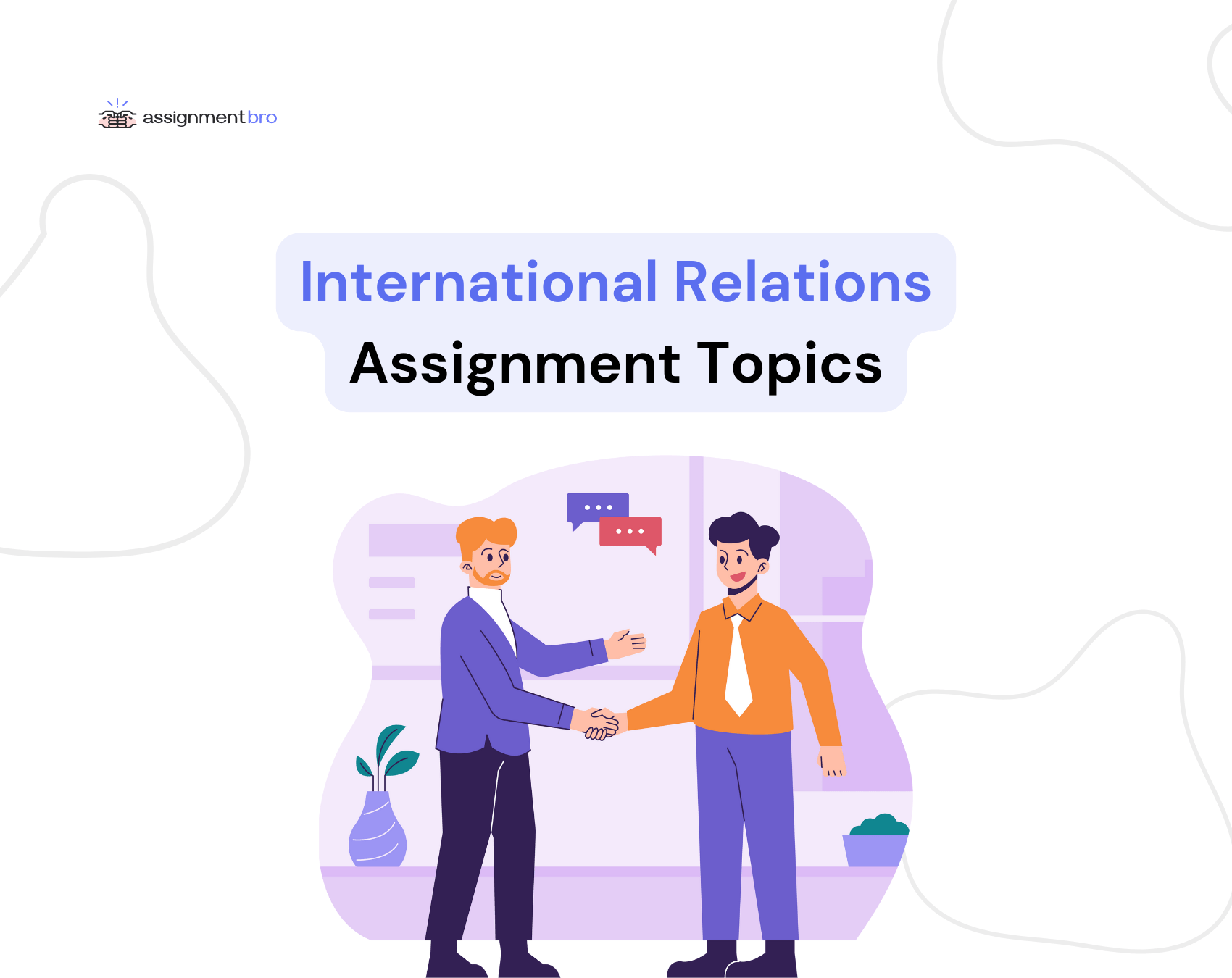 International relations is the study of the international interactions between states and non-state actors, such as international organizations and multinational companies. It involves the study of world politics, which are the political relations among nations, international relations theory, which is the study of how to explain and predict international relations, as well as international law, a set of rules that governs all actions taken by nation-states.
International relations is concerned with the study of global dynamics, such as the political alliances between countries, military actions taken by those countries, and economic agreements signed by them. It also considers the effects these actions have on one another. 
Why You Should Study International Relations
International relations is an important part of learning because it helps students understand the world around them. It helps students explore how different cultures, nations, and regions interact with one another. International relations can also help students learn about different political systems and policies that exist in other countries.
International relations is important for learning because it allows students to explore the global community from a variety of perspectives. It provides students with a better understanding of how people from different backgrounds interact with one another on both a personal and professional level. This subject also helps students develop a deeper understanding of the world around them by exploring various cultures and customs that may be unfamiliar to them otherwise.
Who is Studying IR?
Students who study International relations are typically interested in the way the world works and how it is connected. They want to know why certain countries are allies, while others are enemies. They also want to figure out why some countries are rich and others are poor, or why some nations have vast natural resources while others have none at all.
Students who study International relations are curious about what makes one country different from another, whether they're studying in-depth topics like military conflict or more general ones like environmental policy.
International relations is a discipline taught at most colleges and universities around the world. In addition to being an academic field of study, it is also a career path for those who want to work in government agencies or other organizations that deal with international issues.
A degree in international relations is a good choice for those who want to work in the government, non-profit organizations, or private companies. A bachelor's degree can also be a stepping stone to graduate school.
Current International Relations Topics
Research Topics for International Relations
Controversial Topics in International Relations
Specific International Relations Paper Topics
International Relations Debate Topics
Find the writer according to your requirements
AssignmentBro is a team of experienced writers in any field of academic research
We thoroughly choose writers with advanced multistep selection process
Our writers work according to the highest academic standards
Topics for Ethics International Relations
Gender International Relations Topics
International Relations Argumentative Topics
Sports and International Relations Topics
African International Relations Research Topics
Topics China International Relations
How to Choose the Right Topic?
Choosing the right topic in international relations is not an easy task. The world is changing every day, and so are the events that shape it. There are many things to consider when choosing a topic. Here are some steps that you can follow:
Consider what you want to talk about. Are you more interested in the history of diplomacy? Do you want to talk about how countries interact with each other? Or maybe you want to discuss international law and how it affects various aspects of life.
Decide how detailed you would like your project to be. Will it be a simple overview of current affairs or will it go into depth about how these issues affect daily life?
Another thing that should be taken into account is whether or not there are any restrictions on what information can be used for this kind of research (if any).
In the same way, if you are looking for some good International Relations assignment help, you are at the right place. AssignmentBro provides quality academic assistance to students from all over the world. AssignmentBro has an experienced team of writers and editors who have experience in writing on International Relations Topics. You can rely on us for any kind of assignment help including International Relations assignments, dissertations, presentations and case studies and so on.