Microbiology Assignment Topics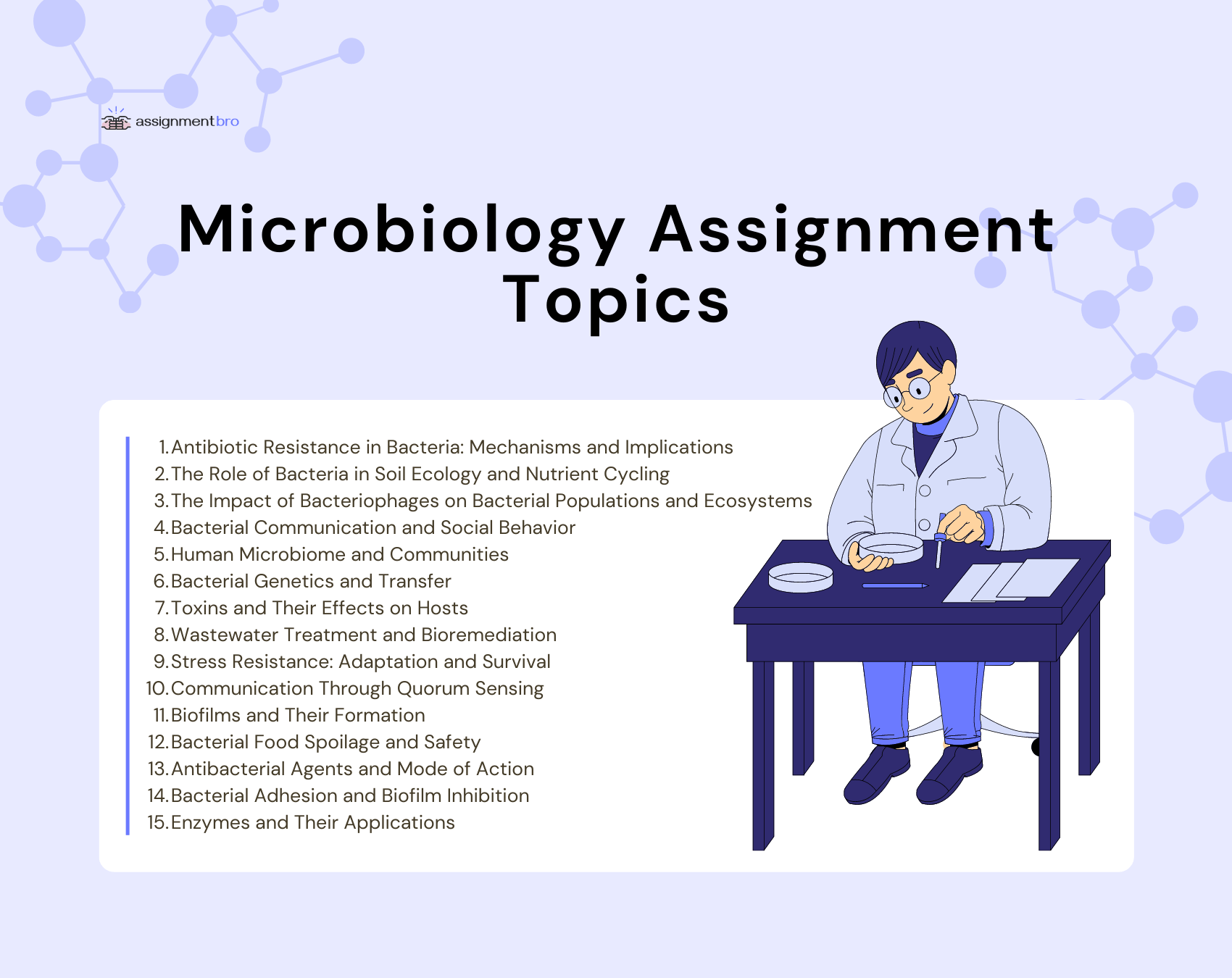 Microbiology is an essential part of many scientific fields, including medicine, agriculture, and ecology. As a result, it's essential for students to become familiar with the various microorganisms that exist in the world around them.
To help facilitate this process, we've compiled a list of top microbiology assignment topics for students to explore. From exploring the immune system to understanding how disease spreads, these assignments can provide valuable insight into the fascinating world of microbes.
About This Subject
Microbiology is a critical field of study that impacts many areas of our lives, including healthcare, agriculture, and biotechnology. Understanding the microscopic world of microbes is essential for developing new treatments for diseases, improving food safety, and developing new products for industry.
Microbiology is also an exciting field of study because it is constantly evolving. New discoveries about microbes are always being made, and there is always more to learn about these fascinating organisms.
Who Studies It, and Why?
Microbiology is a popular subject among students who are interested in science and health. Students who are studying biology, chemistry, or other related fields may also choose to take microbiology courses to broaden their knowledge and skills.
Microbiology is a diverse field that offers many different career opportunities, from research and development to public health and environmental monitoring. Students who study microbiology can go on to work in a variety of fields, including healthcare, biotechnology, food safety, and environmental science.
What Does This Discipline Include?
Microbiology covers a broad range of topics, including the structure and function of individual microbes, the ecological and evolutionary relationships between different microbial communities, and the impact of microbes on human health and disease. Some of the most popular microbiology assignment topics by structure include:
Cell structure and function
Genetics and molecular biology
Microbial ecology
Microbial pathogenesis
Bacteriology Topics
Virology Assignment Topics
Mycology Assignment Topics
Parasitology Topics
Medical Microbiology Research Topics
Immunology Research Topics
Current Topics in Microbiology and Immunology
Microbial Ecology Assignment Topics
Choosing a topic can be hard when it comes to social studies, because there are so many topics that could potentially be chosen from. It is vital to choose something that interests you and will provide insight into the material you are learning. One way to narrow down a list of potential topics for your social studies assignment is by asking yourself what about the material needs further exploration or clarification.
When choosing a social studies topic, it can also be helpful to think about the format of your assignment and whether or not it should include research, a presentation, or some other kind of writing project. Researching various topics in advance may help you narrow down the best one for your assignment.
Get Expert Assistance on Microbiology Assignments Today!
If you're having trouble understanding social studies material or need extra help with Microbiology assignments, AssignmentBro is an excellent choice! We have experts who specialize in social studies topics and can guide in completing these assignments successfully.
Don't let yourself feel overwhelmed when choosing a social study topic – AssignmentBro is here to help!