Social Work Assignment Topics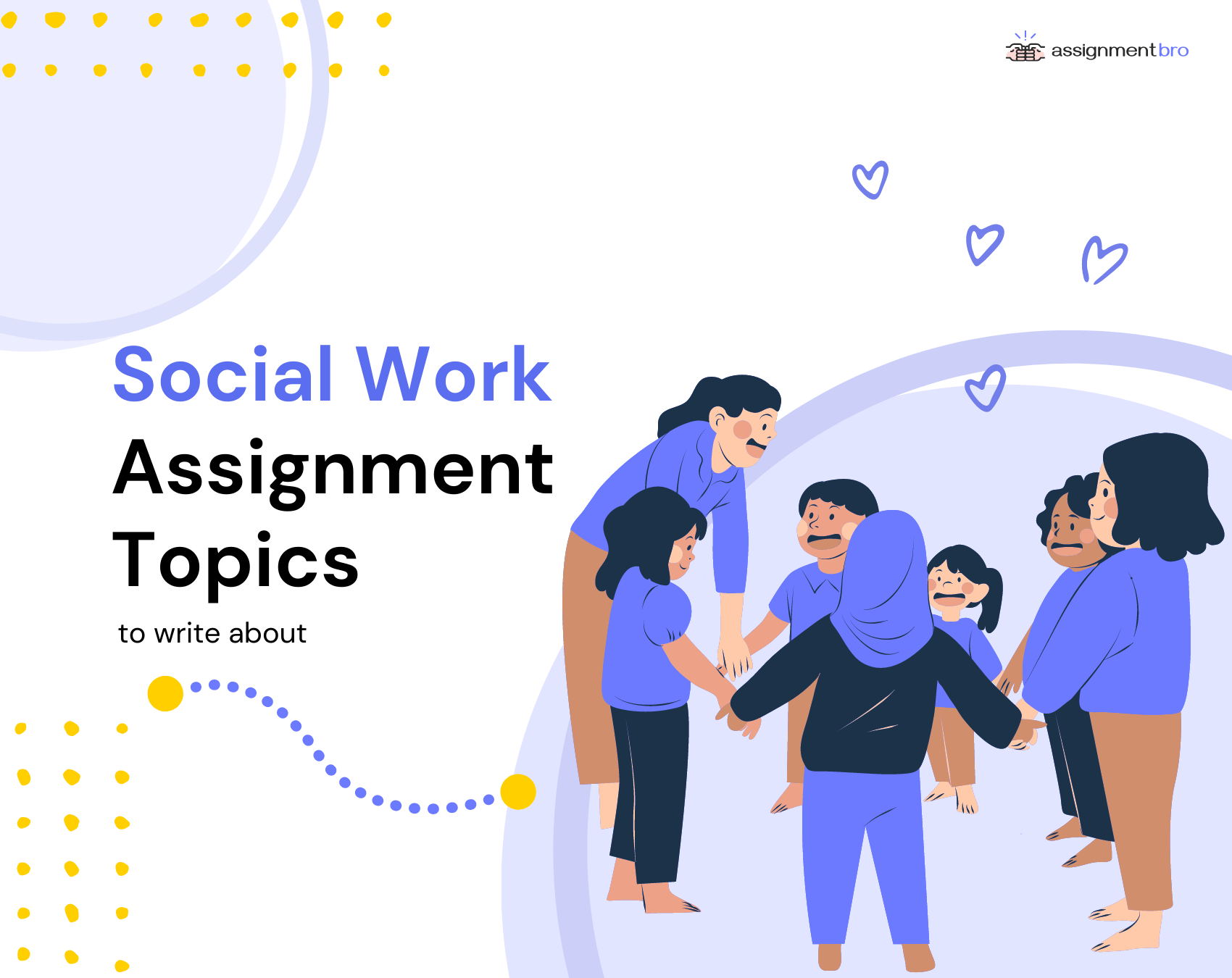 Social work is an important field that focuses on helping people in need. It addresses social issues and provides assistance to individuals, families, and communities. As a result, there are many areas of focus within the profession which can be explored through social work assignments. In this article, we'll explore some exciting topics for social work assignments.
Why Does Social Work Necessary for Learning?
Social work education is invaluable for learning, as it allows students to hone essential skills necessary for understanding and dealing with complex social issues. Theories and interventions related to social justice, human rights, and even social change can be studied through various courses. Students also gain valuable practical experience through working with diverse groups and communities.
Moreover, social work education promotes critical thinking and problem-solving skills which are essential when working in any field. Through coursework and placements, students learn how to build meaningful relationships, communicate effectively with a range of people, and advocate for the needs of their clients.
In addition to this, part of social work education often involves engaging in research within the community which can aid those studying in developing a deeper understanding of marginalized populations' circumstances and experiences. This serves a dual purpose by nurturing empathy whilst simultaneously helping students further develop their data analysis capabilities and capacity for community involvement.
What Branches Does Social Work Include?
Social work is a broad field that includes several different branches or practice areas. Here are some of the main branches of social work:
Clinical social work: involve providing therapy and counselling to individuals, families, and groups who are experiencing mental health or emotional issues.
Child welfare social work: focus on protecting and supporting children who are in vulnerable or at-risk situations, including those who have experienced abuse or neglect.
Medical social work: involves working in healthcare settings, such as hospitals or clinics, to help patients and their families navigate healthcare systems, access resources, and cope with medical issues.
School social work: focus on supporting students and their families in educational settings, addressing issues such as bullying, academic difficulties, and mental health concerns.
Community social work: involves working with communities to identify and address social issues, such as poverty, homelessness, and discrimination.
International social work: focus on addressing global social issues, such as human rights violations, disaster relief, and poverty reduction, in countries worldwide.
Who Is Studying Social Work?
People from a variety of backgrounds may choose to study social work. Social work students are typically passionate about helping others and making a positive difference in the lives of individuals, families, and communities. Some common reasons why people choose to study social work include a desire to:
Work with underserved or vulnerable populations, such as children, the elderly, people with disabilities, or those living in poverty.
Address social and economic justice issues, such as inequality, discrimination, or oppression.
Advocate for social change and policy reform in areas such as healthcare, education, or criminal justice.
Provide counselling or therapy to people who are experiencing emotional or mental health challenges.
Work in community organizing, program development, or other roles that promote social well-being.
Social work students come from diverse educational and professional backgrounds, and may hold bachelor's or master's degrees in fields such as psychology, sociology, education, or nursing. Some students may also have work experience in related fields such as healthcare, social services, or non-profit organizations.
Social Work Research Topics
Social Work Research Questions
School Social Work Topics
Human Services Research Topics
International Social Work Topics
Social Work Issues Topics
Controversial Topics in Social Work
Social Work Literature Review Topics
Social work assignment topics can cover various issues related to social work practice, policy, and theory. Work on them may require students to analyze case studies, conduct research, evaluate programs, or develop interventions related to a particular social issue or population.
It is essential to choose a topic that is interesting and relevant to the course, while also being feasible to research and write about within the given time frame. In such cases, you can always use the AssignmentBro social work assignment help service to write your topic well and get A+!