Current Biotechnology Assignment Topics to Write About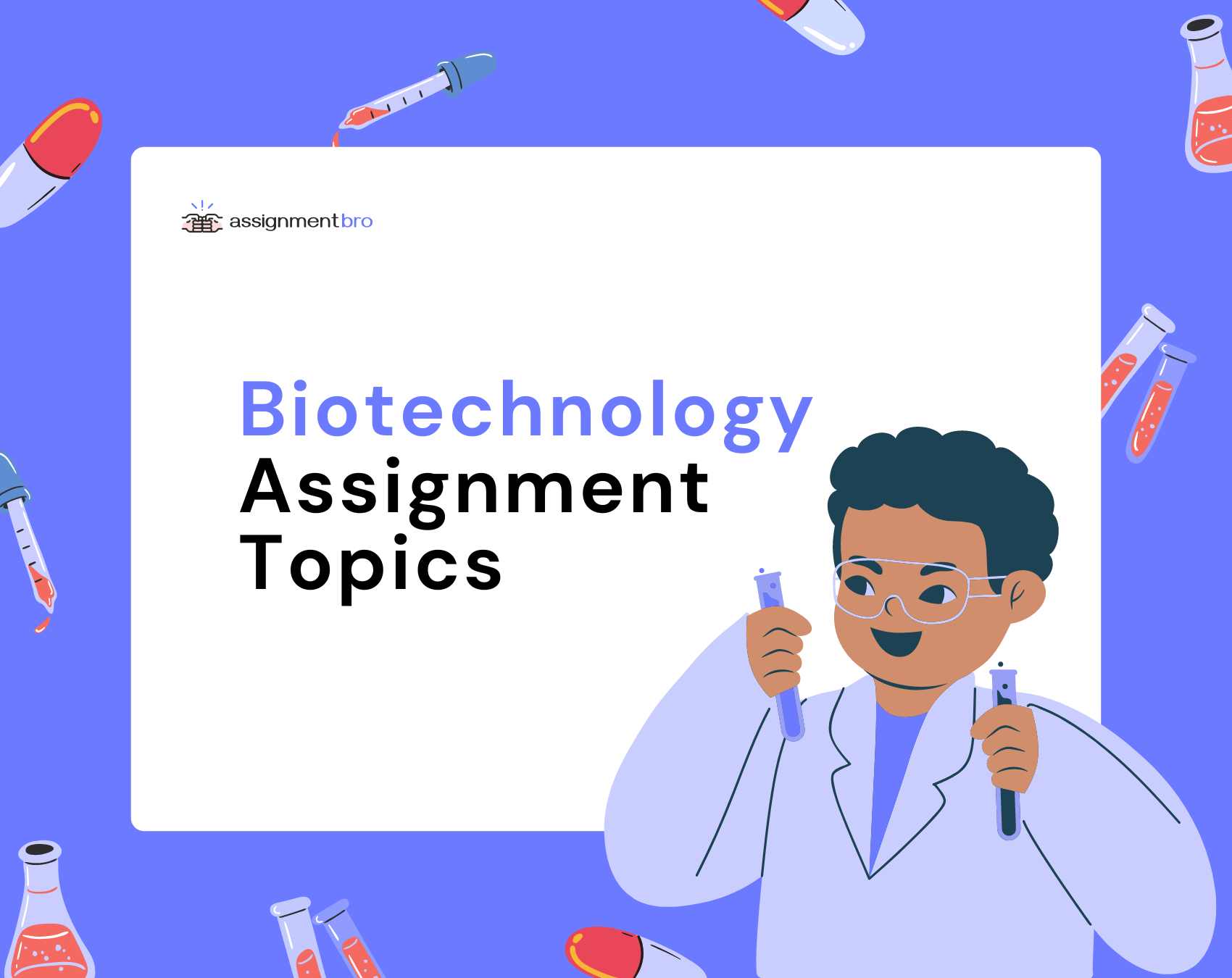 Biotechnology is the application of science and engineering to the processing or production of food, drugs, fuel, and other products.
Biotechnology is a broad term that covers any technological application that uses biological systems, living organisms, or derivatives thereof to make or modify products (such as pharmaceuticals), to improve plants or animals, or to develop microorganisms for specific purposes. It also includes genetic engineering in which DNA is cut and pasted from one organism into another. It can be used in medicine. Its advantages include better understanding of biology and medicine, improved yield of crops, less food waste and more nutritious food.
You can get Biotechnology assignment help 24/7 at our service.
Who is studying Biotechnology?
Biotechnology is a subject that is taught in many schools across the world and is often studied by students in high school and college. Biotechnology is a broad field with many different applications. It can be divided into different sub-disciplines, including agriculture, medicine, and environmental science.
Students who study biotechnology will be exposed to the latest research in this field. This can help them develop an understanding of how biotechnology works and how it can be used to help people around the world. Biotechnology also has many practical applications for students who wish to pursue careers in science and engineering fields as well as for those who want to work in related industries such as agriculture or health care.
What does the discipline of Biotechnology include?
Biotechnology includes many different fields:
Bioinformatics – The field of bioinformatics involves using computer science techniques to analyze biological data. Data from gene sequencing machines are often used as inputs into bioinformatics software programs.
Genetic engineering – Genetic engineering involves manipulating DNA to alter an organism's genes. This technology can be used to create new organisms or improve existing ones.
Immunology – Immunologists work in infectious disease research and develop vaccines that prevent disease by boosting our natural defenses against disease-causing agents such as bacteria or viruses.
Microbiology – Microbiologists study microbes (such as bacteria) that cause diseases in humans, animals and plants. They also study how these microbes grow and how they can be controlled so they don't cause disease in humans or animals.
Biochemistry – This is the study of chemicals in living organisms at a molecular level. Biochemists study how cells use energy, store energy, communicate with each other and produce chemical reactions within cells.
Genomics – This is the study of an organism's genome or complete set of genes.
You can get help with chemistry or biology assignment writing at our website.
Controversial Biotechnology Topics
Biotechnology Topics For Presentation
Environmental Biotechnology
Medical Biotechnology
Current Topics In Biotechnology
Food Biotechnology
Pharmacy Biotechnology
Biotechnology Problem Topics
Your assignment can be completed in 3 hours!
Has your deadline come quicker than you expected? No worries! We have what you need – a 3-hours deadline option! All features available for any other order applied, including:
100% original assignment
Free formatting and reference list
24/7 online support
Industrial Biotechnology
Molecular Biotechnology
Cardiac Biotechnology
Ethical Topics In Biotechnology
Debate Topics On Biotechnology
Agricultural Biotechnology
Plant Biotechnology
Biotechnology is the use of living organisms and bioprocesses in engineering, technology, medicine and other fields requiring bioproducts. It is an area of applied biology involving the creation of new industrial, pharmaceutical and agricultural products and processes. By the way, when it comes to the studying of the discipline, students are often challenged with the amount of information that has to be learned.
The main challenge for students when it comes to this subject is not just understanding the material; there are also several other factors that can make it difficult for them. For example, they may have trouble finding time to study or even knowing where to start in the first place.
The good news is that there are ways for students who are struggling with this topic to improve their grades and give themselves a better chance at passing their coursework. They just need some chemistry homework help from an expert who can guide them along the way until they become more confident in their abilities: someone like AssignmentBro!