How to Write an Executive Summary for an Assignment Right and Neat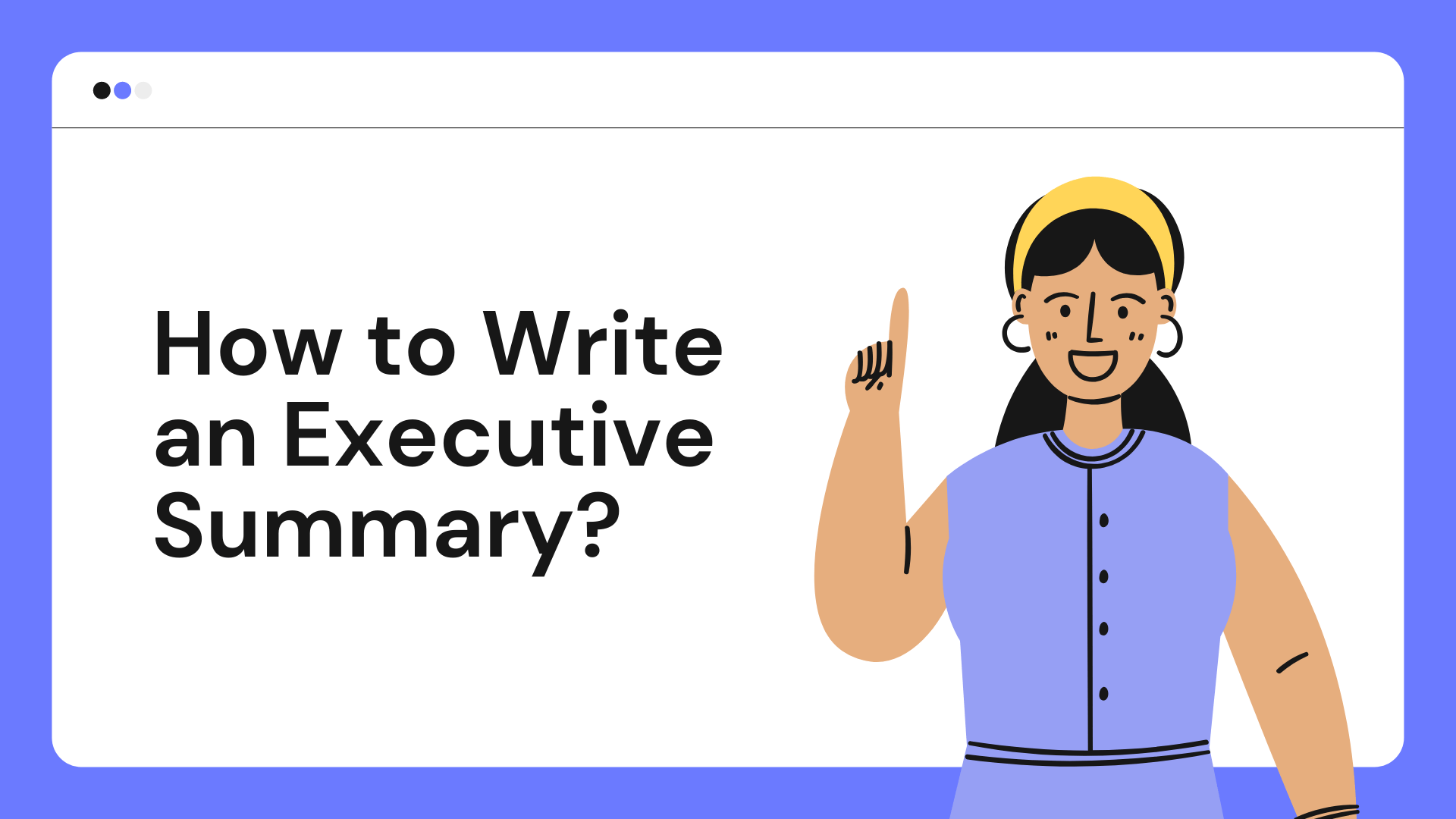 We all know the importance of first impressions and an executive summary provides exactly this to your reader. It's essential to learn how to write an executive summary for an assignment well!
What is an executive summary?
An executive summary (or management summary/abstract) is basically a succinct summary for an assignment or report that provides an overview of the assignment's sections.
Contents of an Executive Summary
When writing an executive summary for an assignment, you generally need to include 3-5 parts:
An analysis
Your recommendations
The implementation (if applicable)
Your reflection (if applicable)
What is the Purpose of an Executive Summary?
An executive summary/management summary/abstract is primarily produced for government or business purposes and plans. The summary gives the reader the opportunity to understand an assignment or report quickly and easily without reading the full contents.
How to Write an Executive Summary for an Assignment in 6 steps!
1. Purpose
Firstly, explain the purpose of the business assignment by providing the company name, location, legal structure, type of service/products, founding date, financial information, and the business's key milestones that can be used to measure success.
 2. Overview of the Management Team
Next, give the reader a brief insight into the management team's experience/expertise and their individual contributions to the company.
3. The Products/Services
Now, describe the company's products/services, its competitors and how your product or service is different to its competitors (why it is unique).
 4. Your Customers
This section is where you must aim to show that you have carried out extensive market research/analysis and explain your customers' behaviors. Incorporate statistics to demonstrate your understanding of what the findings have shown customers want.
 5. Marketing/Sales
Summarize your marketing plan for key customers and explain why this method is going to work.
6. Sales Forecast/Requirements
Finally, give your sales forecast, predicted expenses, and any funds plus, how these funds will be repaid (if applicable).

Find the writer according to your requirements
AssignmentBro is a team of experienced writers in any field of academic research
We thoroughly choose writers with advanced multistep selection process
Our writers work according to the highest academic standards
Executive Summary Tips!
To write a good executive summary, follow these top tips!
Pay attention to the required length, content, and citation style required by your educational establishment. Different establishments can have very different requirements.
If you do not understand the assignment brief, be sure to get assignment help from your instructor and ask them plenty of questions. It will waste valuable time and energy if you are unclear on the assignment and start in the wrong direction.
Write the executive summary only after the rest of the assignment is complete.
Ask your instructor for a good assignment example if you are unsure of how to write any aspects of an assignment or you can simply key in online 'example of introduction for assignment' or 'example of conclusion for assignment', to obtain useful examples. Reading an example text is often more valuable than written instructions of how to write things.
Your conclusion can help you write an executive summary for assignment as essentially the executive summary is a summary of the conclusion. To write a conclusion for an assignment, remember that it is written in the opposite order to an introduction so, it begins with the thesis, moves on to the main points relating to the thesis, and it ends with statements about the general topic.
Do not claim that your product/service has no competitors. This is almost impossible, and investors may not trust you have carried out sufficient research.
Aim to show an in-depth understanding (to reassure investors) and remember that great interest from investors can be gained via a tight budget (if possible).
Provide a logical order for the reader by stating the main points in the order they are covered in the assignment.
Remember how important your assignment heading is. This will be read even before the executive summary. It needs to be clear, professional, and interesting.
Have a rest before proofreading. As an executive summary provides the first impression, it needs to be completely free of spelling, punctuation, and grammatical errors. Also, see if you can take out any unnecessary words to keep it straight to the point.
Executive Summary Example
In order to gain a deeper understanding, see below for an example of an executive summary for assignment.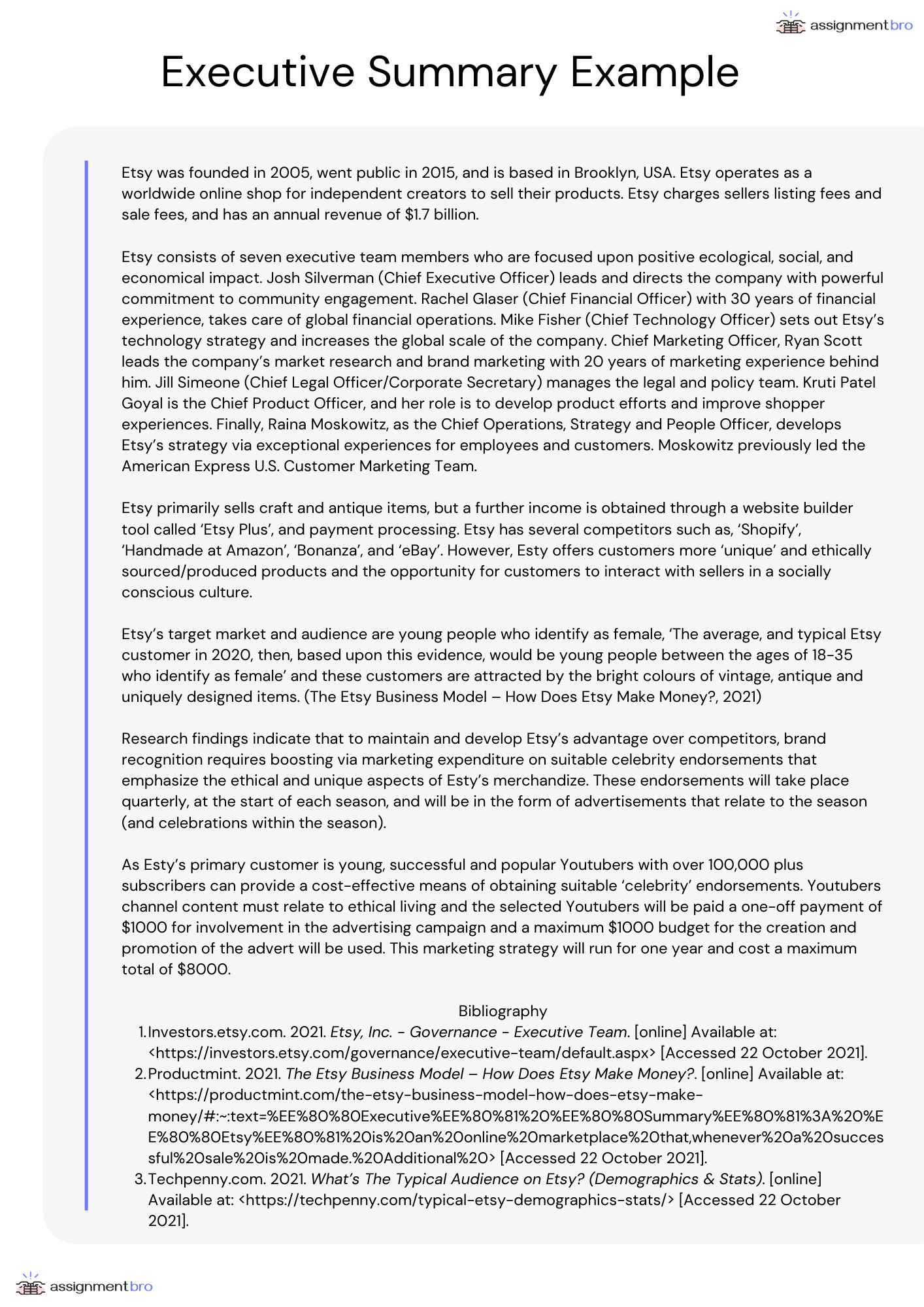 Overall, to write an executive summary for a report or assignment is not easy. It requires the ability to mindfully focus on the key information only and write it in an extremely minimalist way. Hopefully, the steps and tips provided in this article can help you on your way to success!