How To Write a Synopsis for an Assignment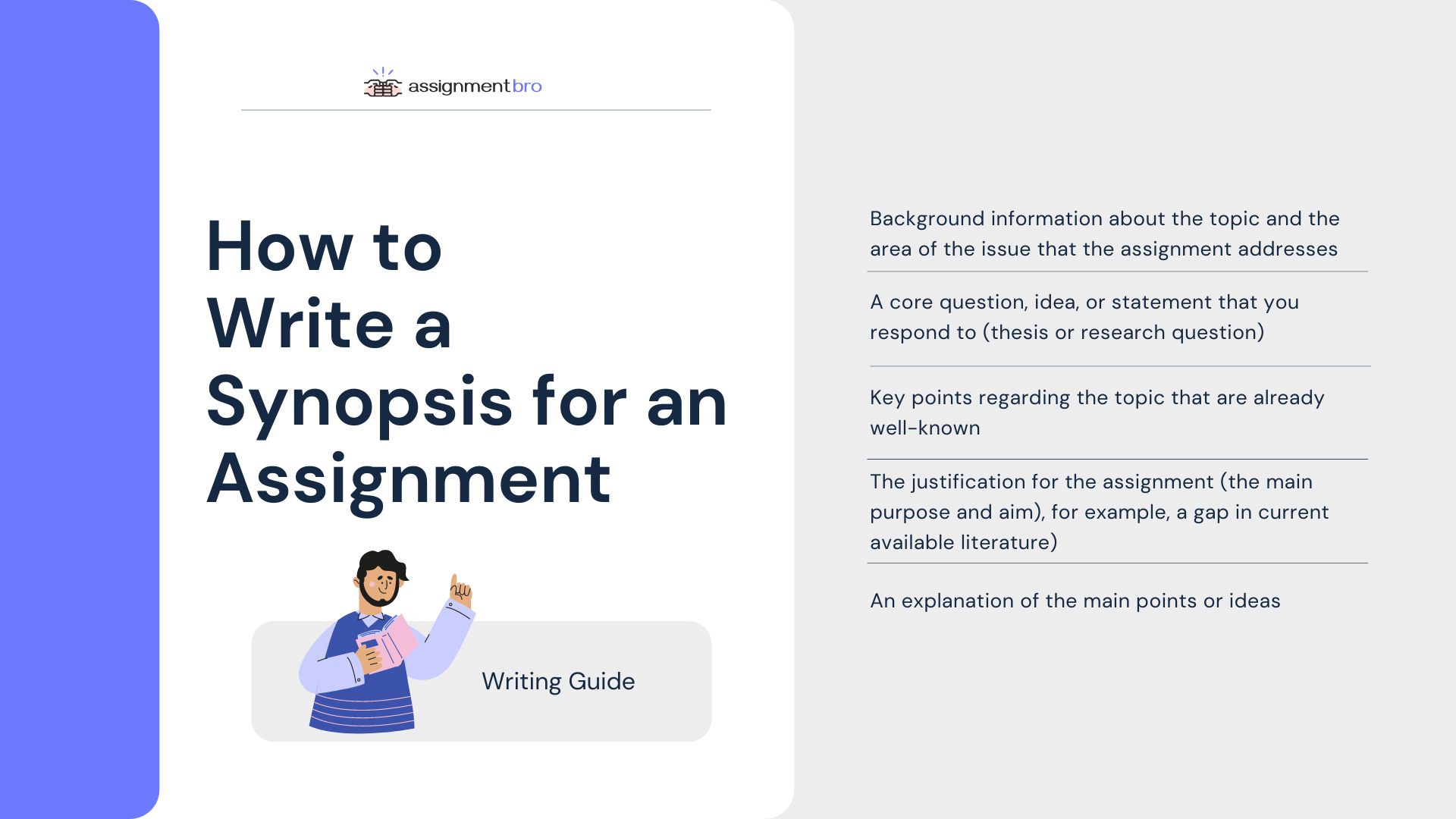 Not sure how to write a synopsis for an assignment? Or do you need to write a synopsis for a publisher or agent? We can assist! Our short article will help you understand the essentials of synopsis writing to get you ready to write a great synopsis!
🤔 What is synopsis?
A synopsis is a summarized description or outline of a piece of work from start to finish. Although a synopsis is like a summary, it differs in that it contains plot details and the ending. The fundamental goal of synopsizes is to entice people to read, watch, buy, or play something, so it's crucial to compose a synopsis that covers the works key conflict and resolve (problem and solution). A good synopsis will allow people to easily understand what the works is about and sense its tone.
An academic synopsis summarizes the key points of academic work and gives a preview of the issues that will be covered whereas a narrative (story or account of events) synopsis gives the audience the story's plot, determines who the primary characters are, and provides a satisfying conclusion or ending. Synopsizes can be written for many different publications (both fictional and factual) such as, newspapers, movies, books, academic journals, television programs, games, or to apply for funding for projects.
✍️ Parts of an academic synopsis
An academic synopsis is more commonly referred to as an 'abstract' and will include:
Background information about the topic and the area of the issue that the assignment addresses
A core question, idea, or statement that you respond to (thesis or research question)
Key points regarding the topic that are already well-known
The justification for the assignment (the main purpose and aim), for example, a gap in current available literature)
An explanation of the main points or ideas
🏁 How to start an academic synopsis (abstract)
Read the whole paper, journal, book, or chapter
Clearly state its rationale, thesis, or aims.
Briefly describe its methodology (how the information was gathered or selected
Summarize its key findings or points. Each paragraph or section within the main body normally makes one key point, so look for the key point within each of these
Explain the conclusion
Remember, to write your synopsis in an active voice, in the present tense, and in the third person (despite the works tense or perspective). This will help you to hold the reader's attention and allow the account to flow smoothly.
Your assignment can be completed in 3 hours!
Has your deadline come quicker than you expected? No worries! We have what you need – a 3-hours deadline option! All features available for any other order applied, including:
100% original assignment
Free formatting and reference list
24/7 online support
💬 A narrative synopsis
A narrative synopsis is normally written to provide an agent or publisher with a condensed version of a story, including the ending. To write a synopsis for any text with a story or narrative, you will need to include the following three parts:
The characters
The conflict or problem
The Narrative arc: This is a description of the framework of the plot.
📝 How to format a synopsis
Synopses are normally quite short (around 500-800 words) in font size 12. Single spacing or 1.5 spacing is commonly used with character names in bold upper-case letters. Paragraphs are indented with one-inch margins. However, agents and publishers may have differing requirements so always check.
If you are writing a synopsis for school, college, or university then it is best to follow your educational establishment's recommended writing format but font size 12, one-inch margins, and indented paragraphs are common requirements.
📄 Academic assignment synopsis example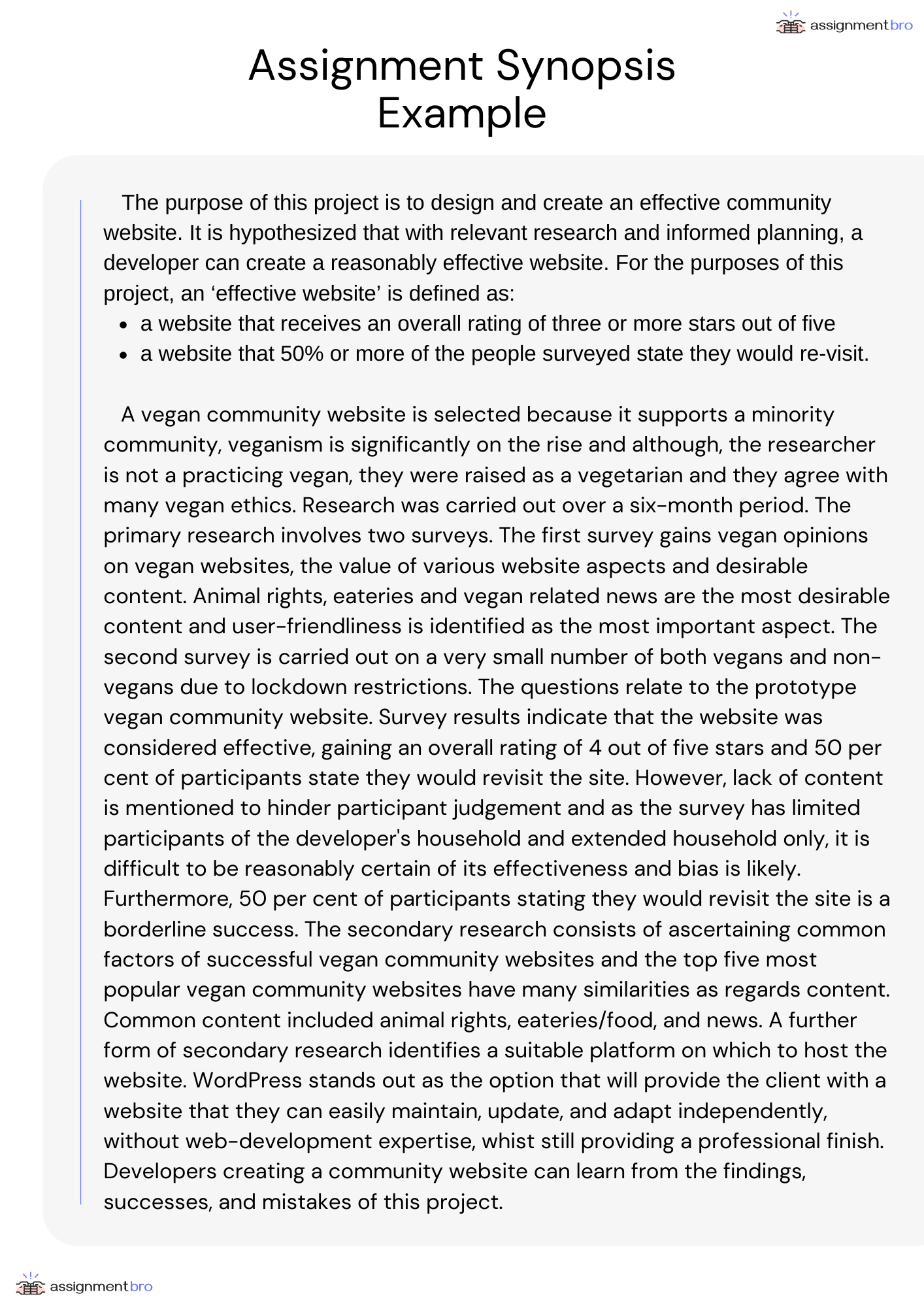 Final thoughts…
Hopefully you have a better idea about how to write synopsis for assignment, or for an agent or publisher. Remember, to read or watch the whole works before you begin writing and summarize from the beginning to the end.