How to Write an Assignment Plan for It to Work
What is an Assignment Plan?
In simple terms, an assignment plan is what helps college and university students come up with a clear outline and preparation before they start writing. Even though it may not be obligatory for reflective writing for your English class, it is necessary to have a clear assignment plan for coursework, research papers, lab reports, and assignments that relate to explanatory, argumentative, or Rogerian assignment structure tasks. The trick is to find some helpful information or do your assignment online by asking for additional help when you are stuck. Regarding preparation, some students will turn to mind maps, basic outlines, others consider taking notes when finding a good example that could be used as a reference.
The assignment writing planning for your paper should represent more than just a draft you can come up with. It also includes additional reading and taking a closer look at search results that you encounter when browsing the web. Remember that the most important is to choose your topic and narrow things down accordingly. It should be done even before you start with a draft. Unfortunately, this part is often ignored as it is considered time-consuming. Yet, it has the opposite effect. Having an assignment plan actually helps to save time.
Your assignment can be completed in 3 hours!
Has your deadline come quicker than you expected? No worries! We have what you need – a 3-hours deadline option! All features available for any other order applied, including:
100% original assignment
Free formatting and reference list
24/7 online support
Why Having a Plan Helps?
If you have ever thought about how to write an assignment for university, the chances are high that you have already worked with a plan or even had to submit one. Here are solid reasons why it helps:
You focus on the list of helpful sources. It basically works as the annotated bibliography that you include as you write.
An assignment plan helps to narrow down the topics that are too general. When you have a plan, it is always possible to make a proposal with a clear argumentation.
It makes it easier to come up with a good thesis statement as you brainstorm various ideas.
You become more focused as you research your subject and start with a draft. It helps you to understand your objectives and come up with topic sentences that can be used as you form your assignment's structure.
Having a draft makes it possible to present your topic to your college professor and revise things when you already have all the important thoughts written down.
You can choose those ideas that fit best and edit things later to fit the word count.
University Assignment Plan Template: How to Step-by-Step Guide
Step 1: Preparing Your Assignment. This is where you brainstorm your preferred subject and think about what can be chosen. It means setting your purpose, looking into similar research papers, and talking to your academic advisor if you are not sure about what must be chosen.
Step 2: Researching Your Subject. Once you have chosen something that works for you, consider moving to the stage of finding good sources and collecting statistical data. It is also where you should take notes that will be helpful as you cite something or come up with strong arguments.
Step 3: Working With a Draft/Outline. Do not be afraid of this assignment planner part even though it may sound frightening. Start with a basic outline where you present an introduction, your thesis statement, research arguments (objectives), and the list of topic sentences with your literature list. Depending on your subject, it may be either for your eyes only or serve as the professionally done draft (proposal).
Step 4: Editing & Revising. This is where you should eliminate all the weak parts by editing your assignment the way you would like. It is actually what helps to work in a relaxed environment and bring things to perfection.
Step 5: Proofreading. Unlike editing, you should not change your sentences at this stage. Look for formatting, grammar, style, syntax, and spelling errors. It also helps a lot if you read it aloud.
Once again, the purpose of a good assignment plan is to help you come up with strong arguments and structure your assignment correctly as you estimate what parts must go to each relevant section.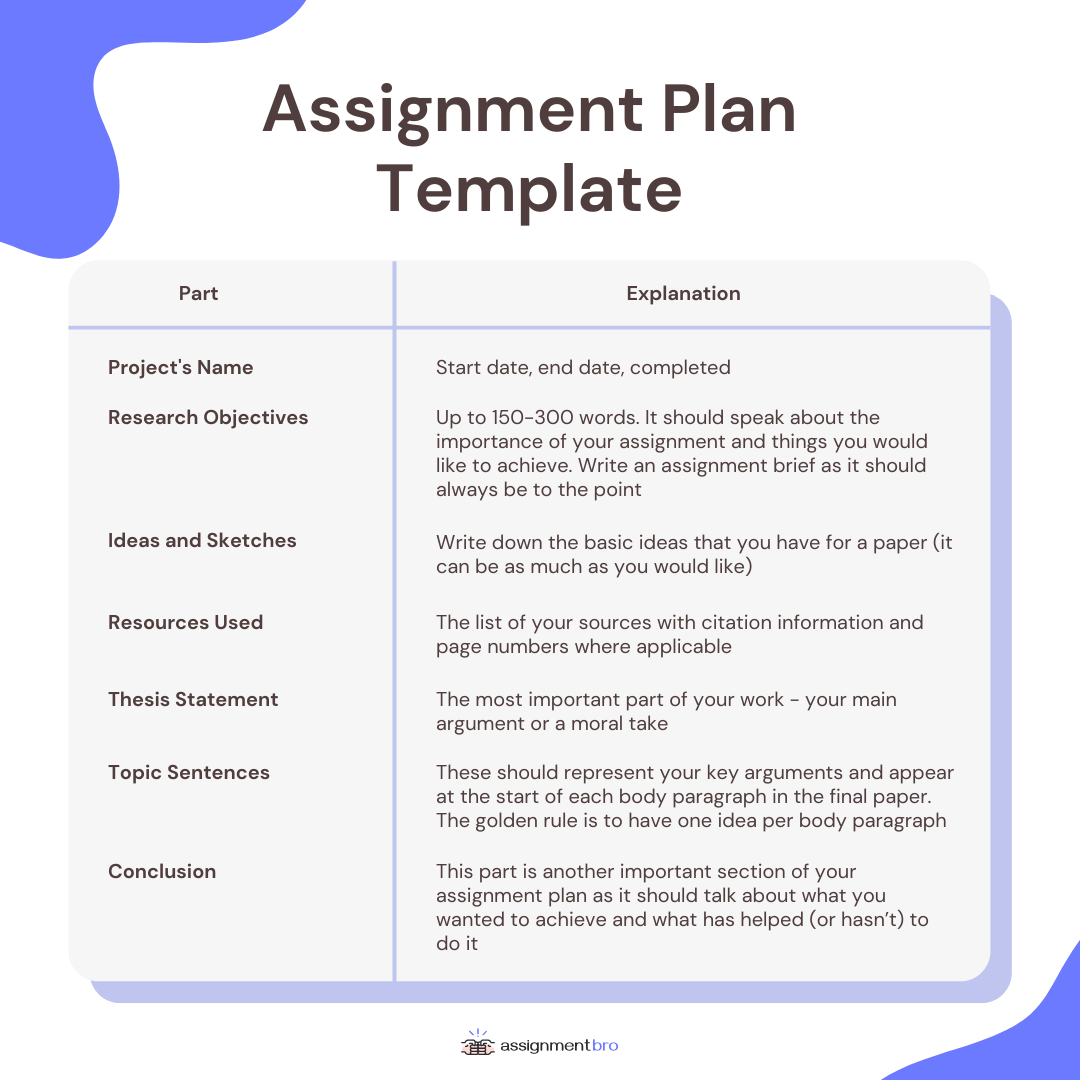 The Research Assignment Plan Template
As a rule, your assignment plan will always differ, depending on your subject and assignment type, yet the most common assignment plan example will include the following seven paragraphs:
Project's Name: start date, end date, completed.
Research Objectives: up to 150-300 words. It should speak about the importance of your assignment and things you would like to achieve. Write an assignment brief as it should always be to the point.
Ideas and Sketches. Write down the basic ideas that you have for a paper (it can be as much as you would like).
Resources Used. The list of your sources with citation information and page numbers where applicable.
Thesis Statement. The most important part of your work – your main argument or a moral take.
Topic Sentences. These should represent your key arguments and appear at the start of each body paragraph in the final paper. The golden rule is to have one idea per body paragraph.
Conclusion. This part is another important section of your assignment plan as it should talk about what you wanted to achieve and what has helped (or hasn't) to do it.
Having a plan in advance will always help you as you already know how to start an assignment by referencing your own writing!