Learn How to Write an Acknowledgment for an Assignment
What is an Acknowledgement in Academic Writing?
Writing an acknowledgment for a college paper, research project or dissertation is an important section. It gives students an opportunity to show their gratitude to all those academic advisors and everyone involved in making the research work possible. While it may seem relatively easy to compose it, it's essential to give it a good thought and sort the individuals mentioned according to their significance and the impact they have made. Most college papers will require showing your appreciation in a condensed way. Learning how to write an acknowledgment, keep your tone official and avoid getting overly emotional (unless applicable).
Remember that you are allowed to use personal pronouns in this section of your research paper as they are always mentioned as you compose this part. The rest of your writing should avoid them unless it is personal reflective research where the use of personal pronouns is allowed. If you are uncertain about the writing tone, you should consult an academic advisor first. When you already know your subject and the list of people you would like to mention, think twice before you start and do not include those individuals who have not contributed to your work. If the situation allows mentioning your family or a high school teacher, discuss things first!
In the majority of cases, you may include:
Academic supervisor.
Secondary supervisor.
Academic helpers in your university department.
Technical staff.
Academic advisors from other university departments.
Relevant institutions, organizations, or charity organizations.
Former students.
Family members and friends.
When Should Acknowledgements Be Used?
While there are no strict rules that must be used regarding academic acknowledgments, these are mostly used when you are planning to start a final year project or work on a dissertation. In terms of structure, as you write an acknowledgment letter, this section must be placed right after your Table of Contents section. As for the length, there are no strict guidelines in this regard and no minimum length, yet it is recommended to avoid going beyond one page. You can sort your mentions in an outline before adding them to your final paper to calculate an approximate length.
Regarding when to use acknowledgments, most educators recommend focusing on the objectives that you would like to achieve and seeing how you can support your argument by turning to authorities, the academic community, or individuals that are well-respected. At the same time, when you are working on a social project, you may thank your parents and educators who have contributed to your personality. It is also necessary to consider specific references and mentions that will help your target audience see the list of individuals you may have consulted or worked with to achieve academic success and clarity of your ideas. It should work exactly the same way as composing an assignment abstract where you consider various ideas and take notes before shaping things. Since this section of your research can be edited later, most academic specialists recommend finishing your work first and then making a list of those people who have helped you by taking relevant notes.
Types of Acknowledgements
When you are trying to determine what type of academic assignment you might require, consider evaluation to see if you only need a simple thank you acknowledgment to mention your primary academic helper or would like to point out that you have taken an interdisciplinary approach and researched your subject by turning to several university departments. It is an important point to consider! In addition to the general "thank you" type of writing, there are also:
Scientific Journal Acknowledgements. It means that you should thank the publishers and mention your academic advisor/college professor as a way to show the person behind your academic success.
Public Research Projects Gratitude. Public research requires mentioning your community, university, state, or the list of countries if it is a global project.
Personal (Reflective) Acknowledgement. This type of acknowledgment is where you can mention your family and people that have influenced you.
Sponsorship / Academic Grant Acknowledgement. If you are working on a grant, you may mention the sponsors that have contributed to your work financially.
Focus on the type of your research to see what contributions might be most applicable, based on your case. There may be thesis help that has been provided or you may have worked with the support staff on a complex laboratory project. It all depends on the situation, yet when you are working on a dissertation, the list of important contributors should be there as an obligatory section. It shows what type of work has been done and who has helped to make the research outcome possible by guiding you.
How to Write an Acknowledgement for College
When you want to write an acknowledgment page, it is essential to take the following steps to keep things narrowed down:
Step 1: Use an appropriate tone. Depending on whether you want to thank a college professor in a typical term paper or a dissertation, your writing form may be different. You may have to mention the challenges of a technical project and explain what kind of contributions have been made. Keep your tone professional!
For example: "I would like to thank for the laboratory equipment assistance to Dr. Jones whose experience and patience have helped me to avoid delays". 
Step 2: Start with the list of important teachers and individuals who have been paramount to your research. Explain why.
Step 3: Mention other helpers, depending on your type of work, institution, organizations, etc.
Step 4: Talk about the grants and financial help you have received.
Step 5: If applicable, the next section should be more personal and friendly.
For example: "I would like to thank my family and friends for their constant support, listening to my drafts, and helping me to go through the challenges". 
Step 6: You may consider a special speech that should be around 3-4 minutes. Remember that your acknowledgment text should be around 100-150 words (no more than one page).
Step 7: Proofread and edit your acknowledgment.
When you brainstorm the list of people and funds to include in your acknowledgment, it is also recommended to start by looking through your executive summary for assignment. It is where most students have to mention those people, sources, or organizations that have helped them achieve success. When you are in doubt regarding this section, talk to your academic advisor and see what mentions are applicable based on your particular case.
Your assignment can be completed in 3 hours!
Has your deadline come quicker than you expected? No worries! We have what you need – a 3-hours deadline option! All features available for any other order applied, including:
100% original assignment
Free formatting and reference list
24/7 online support
Useful Phrases to Uses in Acknowledgements
When you start with an acknowledgment for thesis or dissertation, the following phrases will help you to overcome writer's block and get inspiration:
I would like to express my gratitude to…
I would like to offer special thanks to Dr. Smith who has guided me through… 
A piece of advice provided by Dr. Jones has been a great help in… 
I am particularly grateful for the professional assistance offered by… 
Assistance provided by XYZ Foundation was greatly appreciated. 
I wish to acknowledge the recommendations provided by Dr. Andrews and… 
Dr. Collins has helped me to access rare materials on my subject that helped to increase the credibility of…
I would like to thank the following organizations for their assistance in the collection of valuable statistical data…
I would like to thank my family for their constant support and patience… 
When you are composing an acknowledgment for thesis, you may also use:
The statistical research that has been studied by Dr. X and Dr. Y has helped me to determine the objectives for this research… 
The lab reports have been made efficient thanks to the constant technical help by Mr. Smith whose expertise and constant support have helped me to… 
The contributions of the XYZ library have helped me to access relevant materials and decrease the bias in… 
Example of an Acknowledgement
Acknowledgment Sample 1: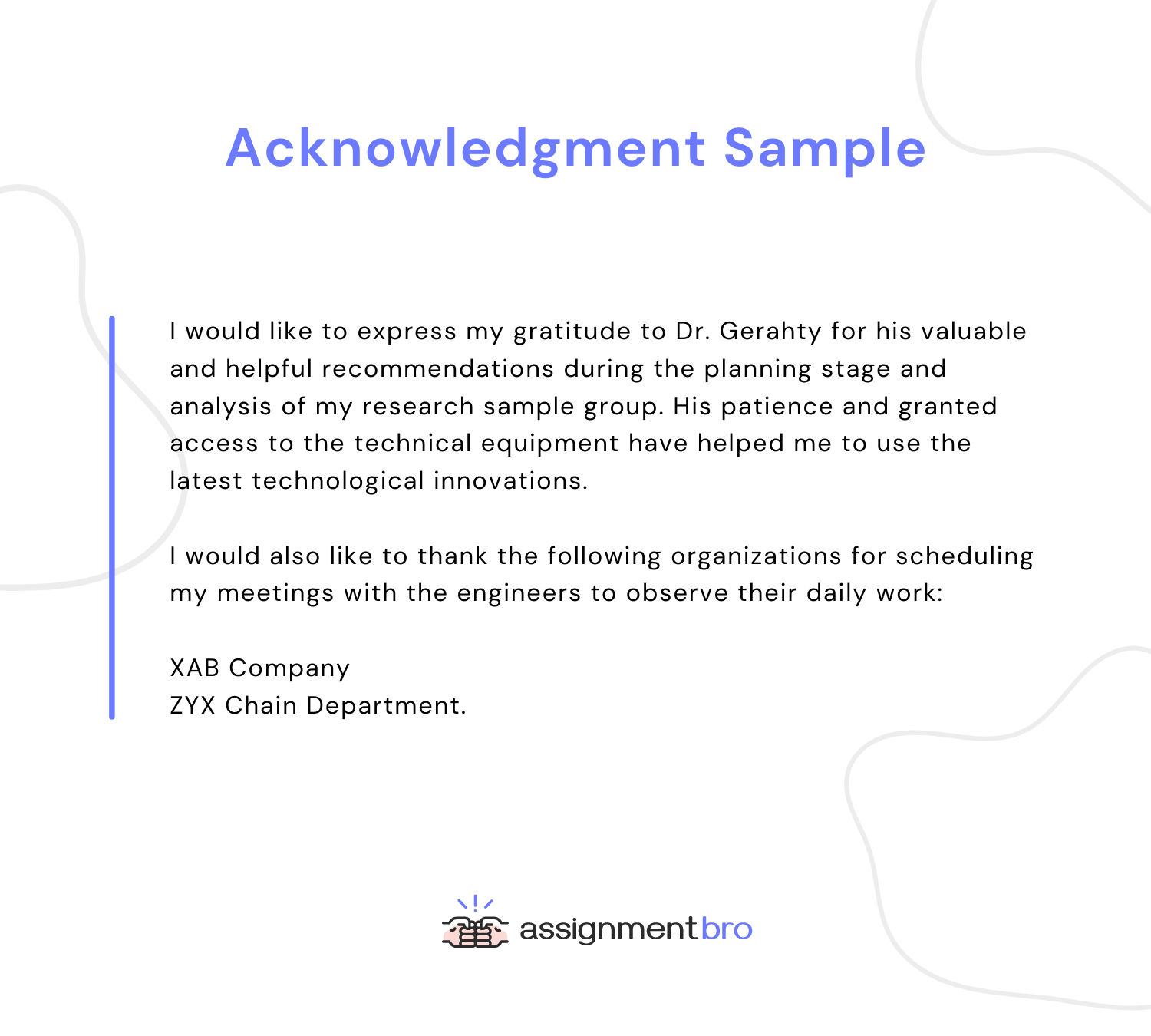 I would like to express my gratitude to Dr. Gerahty for his valuable and helpful recommendations during the planning stage and analysis of my research sample group. His patience and granted access to the technical equipment have helped me to use the latest technological innovations.
I would also like to thank the following organizations for scheduling my meetings with the engineers to observe their daily work:
XAB Company
ZYX Chain Department.
Acknowledgment Sample 2: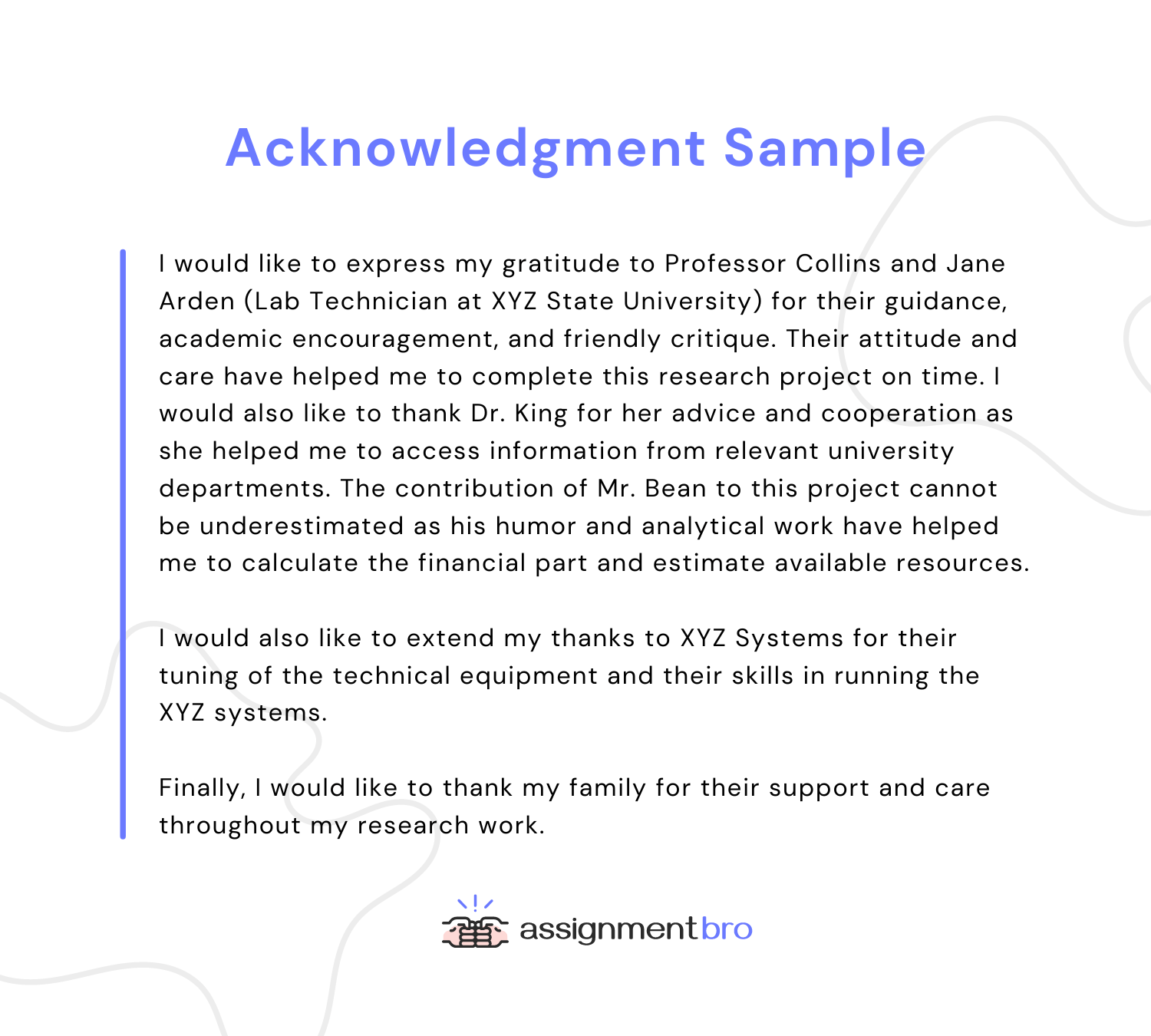 I would like to express my gratitude to Professor Collins and Jane Arden (Lab Technician at XYZ State University) for their guidance, academic encouragement, and friendly critique. Their attitude and care have helped me to complete this research project on time. I would also like to thank Dr. King for her advice and cooperation as she helped me to access information from relevant university departments. The contribution of Mr. Bean to this project cannot be underestimated as his humor and analytical work have helped me to calculate the financial part and estimate available resources.
I would also like to extend my thanks to XYZ Systems for their tuning of the technical equipment and their skills in running the XYZ systems.
Finally, I would like to thank my family for their support and care throughout my research work.