Guide to College Entrepreneurship & Useful Resources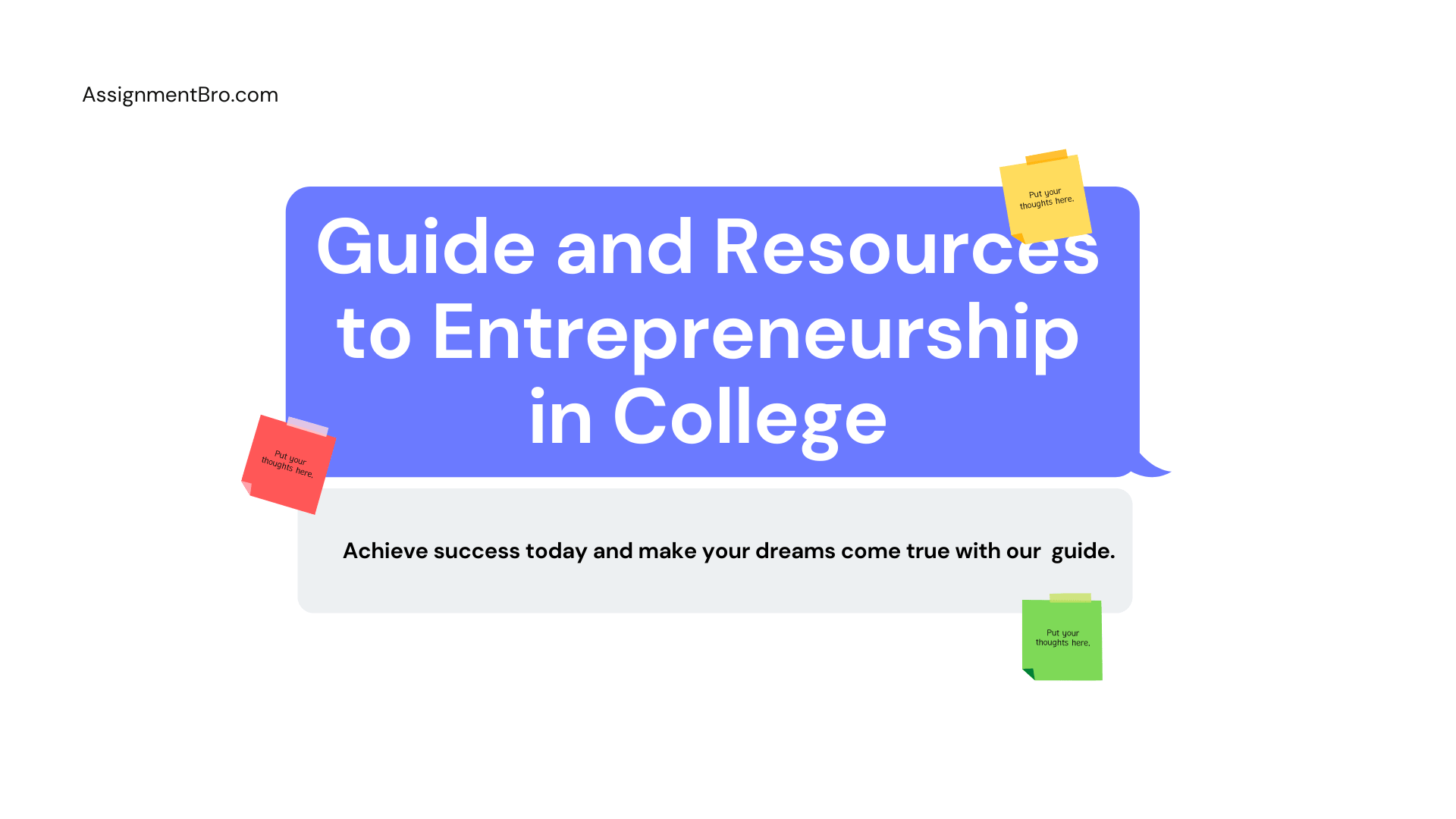 If the concept of college entrepreneurs sounds bizarre to you and you do not know how it works, it is high time to find out more with the help of our trusty guide. The trick here is to implement your creative ideas in practice before graduation and fund your studies or many other things that you have in mind. Why should a person wait when they already know how to achieve success, provide an excellent business plan, or show to the entire world that college students' own business can become a major game-changer?
Before you say that it only works in some TV shows or movies, let us tell you that the idea of college entrepreneurship is not new and has been around for decades, yet things are much simpler today when you can focus on mobile startups, helpful educational solutions, or social initiatives that can work in the most remote parts of the world. Just take a look at Amazon or Facebook whose owners were the same age as you are when they have started their own company and achieved success. Even if you are not a founder of a trading empire and only want to test waters to see if you can make it or not, our guide to college entrepreneurship will help you see some options that are worth checking out!
The Best Entrepreneurship Programs to Consider
Some students prefer joining one of the relevant college courses that increase their chances of reaching success before graduation, which is why we want to include some entrepreneurial programs you should consider to see how they can benefit you:
USA 
UAE's entrepreneurial colleges: 
Canada's Top Entrepreneurship courses include: 
Consider checking the curriculum breakdowns and choose those that reflect your vision and aspirations.
6 Business Startup Ideas for College Students
Freelance & Creative Writing. If you are a bright student, you can cooperate with the other students and organize freelance and creative writing services that cover your professional field. You can also provide help as an expert. As for creative writing, it is anything from blogging to movie reviews and journalism.
Used Clothes Store. Any college student has some old clothes to sell, which can be a great business idea to consider!
Party Ideas & Entertainment Consulting. How about starting your business by offering great party ideas, decoration, planning, and professional consulting in the entertainment field? It is worth thinking about!
Personal Stylist. We all want to look trendy and make an impression! Why spend money at some beauty salon when you can turn to your fellow student who knows what will turn the heads around?
Tutoring & Psychological Help Assistance. You can provide legal help for students by assisting them with their homework challenges (like a professor!) or switch to psychological help provided online or on campus.
Photography Services. With the rise of social media and the need for high-quality content, events photography has become a highly sought after service. As a college student with a passion for photography, you can offer your skills to capture the special moments of events such as weddings, birthday parties, corporate events, and more. You can start by offering your services to friends and family, and gradually expand your client base through word of mouth and online marketing.
Of course, you can think about graphic design ideas, the creation of college safety apps, or anything that you may see important!
The Best Colleges for Entrepreneurship
It is not a secret that some colleges are the best for any business idea implementation. You can approach it as an educational incubator for your plans. Here are our best picks:
One of the reasons why we picked these particular institutions for three countries is their focus on making any beginnings possible for students. Considered as the best colleges for entrepreneurship, they do their best to help you start your business and will discuss your business plan proposal right away.
Scholarships for Entrepreneurs
Of course, as an aspiring business leader, you should think about funding your studies with one of the available scholarships. For example:
Even though some of these entrepreneurship scholarships require the writing of an essay, think about it as a way to present your business. It is a skill that you must learn. Do not forget about asking your college for various funding ideas or participate in local community work to fund your studies in another way.
Financing College Entrepreneurship
Of course, most of you have already thought about this crucial matter, which is getting your business beginnings financed properly without becoming a victim of debts and disappointment. Some of the existing options include:
As you choose any of the options shown above, remember that you should keep an active social profile and participate in various social campaigns and show a good example of being a leader!
Entrepreneurship Resources for Students
Here are some resources that you will definitely find helpful as you seek information about the best entrepreneurial schools or the ways how you can find an excellent mentor if you lack the confidence to present your business owner benefits:
Most importantly, remember that you can achieve success if you remain open-minded, learn how to listen, keep patient, and cooperate with other people. Share your ideas, show confidence, and do not miss your chance to start your project as a college student! We hope that our guide to the best entrepreneurship programs will assist you as you make your choice!