Resources for Students With Down Syndrome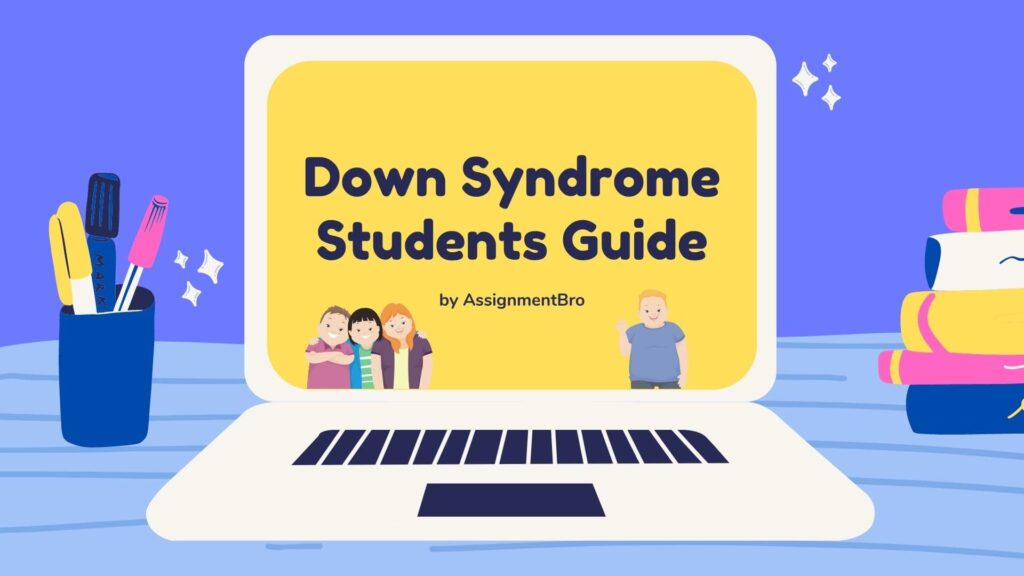 What is Down Syndrome?
Down Syndrome is also known as Trisomy 21, which belongs to a chromosomal condition. It affects the way how a person develops in terms of mental skills and physical development. In addition to particular physical features as the flat facial profile, the students with Down syndrome are developing at a slower rate. Although there are speech and motor skills impairment, the majority of intellectual skills are not affected, which means that there are college programs for Down Syndrome that provide certain courses where additional assistance with self-care is provided.
According to statistics, about 1 of every 1,200 people (both children and adults) are living in the United States with Down syndrome. It means that there are about 250,700 people with this condition. While there are no specific statistics regarding how many Down syndrome students have been enrolled in colleges, it is sufficient to say that 2019 is the year when the first Down syndrome learner has graduated from college. It brings hope and proves that once a person has detailed information about college for Down syndrome students, things can change. Since most curriculum programs will not be extra hard for such students in terms of perception (unless there are concerns with the eyesight or hearing), one can apply even for most programs without changes.
College Programs for Students with Down Syndrome
Although you can choose almost any college that fits you locally or in terms of finances, these five educational institutions are specially adapted to additional needs and have good campus facilities.
One of the best colleges where a student with Down syndrome is not treated any differently by posing a special REACH program that helps to communicate and interact in the local community. A learner is not separated from the rest and has special medical help once and if it is required. It also includes specific internships that are aimed at students with special skills. Considering that it has about 94% graduation success, it is worth checking out.
It is one of the best college programs for students with Down syndrome because it involves more than education and specialized coursework. Starting with full employment support, a person is not left alone without help. Even if you are not a local resident, you can learn more about their campus and see how a special mentoring program works.
In this case, we have a two-year intensive certificate program that is aimed specifically at students with learning or cognitive challenges. You must discuss your situation and always start with an audition to adjust your skills and special needs. You can also enroll in courses that include students with disabilities and those without them by choice. This university focuses on social skills and helps to establish better self-esteem.
Their Mentor Advantage Program stands out from the rest because you do not have to pay additional fees as you want to access various resources. The purpose of this college is to let Down syndrome students use labs, study rooms, and receive academic assistance in terms of project creation and organization. Unlike many other universities, one does not have to make any compromises.
It is aimed at students with Down syndrome, learners with an autism spectrum disorder, OCD, ADHD, and various cognitive disabilities. It has the Gersh College Experience, which offers support and a campus environment with medical help and nurturing. You are not only learning how to achieve academic success but also told how to live independently and communicate the best way possible. It has a special educator to assist you as you learn.
Do not forget that you should not ever ignore even the best universities because all it takes is a special program where they are working with Down syndrome students by applying additional course adjustments.
8 Scholarships for Students with Down Syndrome
Show your educational history, medical information, and a passionate essay to receive $10,000 assistance per person. It works as an educational grant and will cover your tuition in most American colleges and universities, both 2-year and 4-year courses. If you have a sibling or can refer someone with special needs, you receive additional help. The deadline is to be announced in 2021.
This Frederick J. Krause scholarship of $999 is a great chance to tell about your condition and bring in scientific data to various projects that relate to health promotion, disabilities services, or even rehabilitation. If you are a student with special needs, you can participate in educational research. Deadline: November 15, 2021.
You can receive up to $2,000 if you are planning to enroll in technical courses. This award is given to special needs students. You must provide your medical information and have at least a 2.0 GPA. Deadline: April 3, 2021.
This $500 scholarship is given to students with Down syndrome who are ready to write a 500-word essay about their future plans, challenges, passions, and thoughts. Tell about how you would break down your limitations and fight. Deadline: February 1, 2021.
You can get up to $5,000. It is one of those Down syndrome scholarships that aims to help with independent life skills and education. The students are asked to share their experiences to help others get through various challenges. No deadline.
If you want to get enrolled in college, you can win a $2,500 award. Even if you have a sibling with Down syndrome, you can receive up to $1,000 assistance. You must write a short essay and tell about your intellectual disability challenges. Deadline: April 1, 2021.
If you have faced challenges as a disabled student and could achieve academic or personal success, tell about it. Show your financial needs and discuss your medical challenges. An award of $7,500 is given to those who study with cognitive / learning differences. Deadline: March 17, 2021.
It includes educational and recreational scholarships as well as assistance in terms of professional help. You can learn more about how your research project or educational ideas can be assisted. Even if you do not have any specific financial needs, your special educational schedule can be financed. Once you write an essay and pass an interview, you can receive from $500 to $7,000 financial aid. Deadline: May 2021.
Support Resources for Students with Down Syndrome
Believe and Challenge Yourself!
You should not ever give up because things change in a positive way and there are far more Down syndrome resources today than even a few decades ago. Always believe in your skills and challenge yourself by taking one step at a time. Essentially, Down syndrome in college is treated differently these days by introducing various programs where students are not ignored and are enrolled in a usual class. The major difference is additional help, which means that you won't ever feel special but will know that you can learn the right way.