List of Top Helpful Anti-Bullying Resources For College Students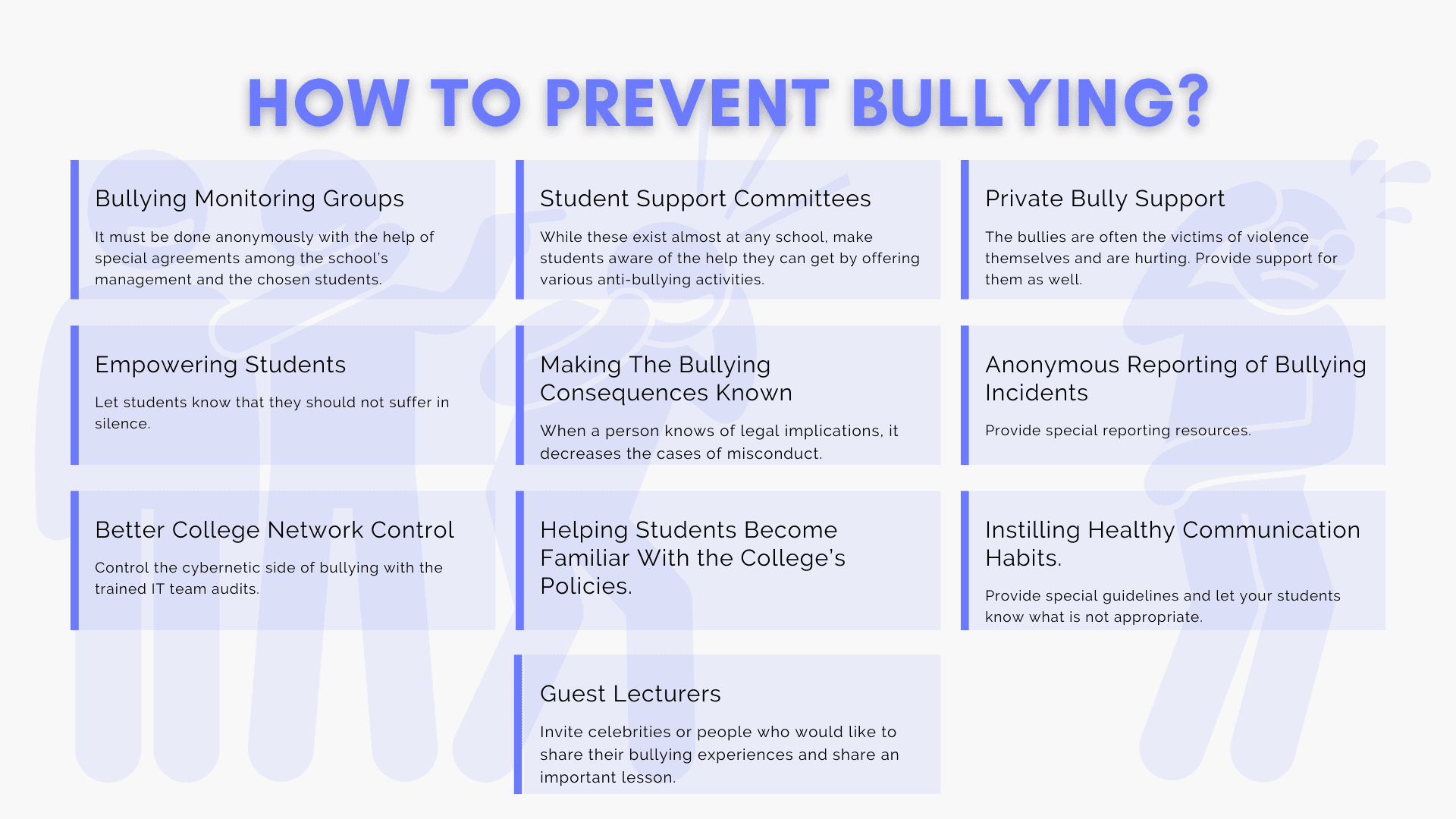 Without a doubt, anyone who has been a part of any social circle has experienced the ugly face of bullying in this way or another. Thankfully, this problem is brought to the surface more often than it has been done in the past. We can see the famous athletes, celebrities, and business tycoons discuss bullying and sharing their experiences. Even though when hearing of bullying or cyberbullying, most of us will think of some bullied kid, it is not only young people that experience the problem. The college students may become trapped in bullying because of bad interactions with a college professor or belonging to minorities, which often becomes a reason for harassment and improper behavior.
What is Bullying?
If we go beyond the middle school harassment and do not focus on school children precisely, bullying is an example of physical or mental abuse with the participation of one or several attackers who have a social authority or a greater physical power over their victims. It is the power imbalance problem where a person is hurt by words or actions on purpose. Speaking of a college environment, we are dealing with repeated behavior where a student (or even a college professor!) is made feel like an outcast. Still, it is crucial to remember that not all forms of bullying relate to physical abuse. Think about teasing or making fun. Although modern educational institutions try to fight bullying in their environment, not many students are aware of available resources for bullying prevention or where to seek immediate help.
Types of Bullying
While one can encounter various lists of bullying types online, we shall talk about those that are related to college students. Essentially, not every physical abuse is considered bullying, yet it is easy to identify the signs of something improper regardless if it is only laughing over someone's physical disability or sexual misconduct.
Person VS Person Verbal Attacks. It is the most common school harassment type among young people today. if someone has a problem with you, it is not really an interpersonal conflict per se because it will also involve some other students or even college professors.
Physical Violence. It includes cases of physical attacks, aggression, or violence. As a rule, college bullies are smart enough to act when they are not seen and a victim has no witnesses to report a problem. Nevertheless, it must be reported to special anti-bullying centers as such cases belong to civil criminal cases.
Sexual Harassment. One of the most disturbing types of bullying at college. It relates to campus boarding as well and students who may be different or weak to protect themselves from improper behavior or remarks.
Group Bullying. This type of harassment is usually carried out by more than one person, which makes it even more dangerous. Since every college will have a group of "lucky ones" and the "outcasts", such problems are rarely brought to the surface.
Racial Remarks. Even though we have the "Black Lives Matter" movement, racial bullying is still there.
The Power of Authority. This type of college bullying relates to college professors and academic advisors who abuse their power and privileges. For example, an African American or an Asian student may be asked to do another test or wait for the other students to complete their assignments first.
Cyberbullying. It is done online with the help of social media, improper messages, or posting private pictures online.
Of course, this list may not include every type of bullying that a college student may face, which is why we came up with the list of bullying resources for students that you will find shortly in our guide.
How to Prevent Bullying?
While each college may have its special programs, here are ten cornerstones that will help to at least decrease the cases of bullying and work towards the elimination of existing cases:
Bullying Monitoring Groups. It must be done anonymously with the help of special agreements among the school's management and the chosen students.
Student Support Committees. While these exist almost at any school, make students aware of the help they can get by offering various anti-bullying activities.
Private Bully Support. The bullies are often the victims of violence themselves and are hurting. Provide support for them as well.
Empowering Students. Let students know that they should not suffer in silence.
Making The Bullying Consequences Known. When a person knows of legal implications, it decreases the cases of misconduct.
Anonymous Reporting of Bullying Incidents. Provide special reporting resources.
Better College Network Control. Control the cybernetic side of bullying with the trained IT team audits.
Helping Students Become Familiar With the College's Policies. Make your rules clear.
Instilling Healthy Communication Habits. Provide special guidelines and let your students know what is not appropriate.
The Presence of The Guest Lecturers. Invite celebrities or people who would like to share their bullying experiences and share an important lesson.
Now it is high time to continue with a list of bullying prevention resources.
20 Bullying Prevention Resources for Students
We decided to collect several resources without focusing on a single geographic location since this information will be helpful for any student wishing to find immediate help and increase one's understanding of the bullying problem.
Here are some anti bullying resources for educators and parents:
College-specific bullying prevention resources:
General Helpful Bullying Resources:
Remember that bullying is against the law and must be reported!
Our guide provides initial resources to help you start protecting yourself and the people around you. Do not be a passive bystander – be the change you want to see and the world will become a safer place for us all!