How to Write an Introduction for an Assignment: Easy Student Guide
Knowing how to start writing an assignment is basically knowing how to write an introduction for an assignment. No matter how easy it sounds, it can often become tricky. An introduction is a part of academic writing that always differs depending on initial instructions and the subject in question. For example, writing a reflective journal for your Nursing course would be different from some research paper.
We can sum it up by saying that introductions should always follow a clear purpose, which is to provide your target audience with a definite idea regarding your essay's content.
Why Assignment Introduction Matters?
It all comes down to the purpose of your introduction. It will either catch your reader's interest or make them feel confused. Your introduction should focus on providing certain general data or statistics before narrowing things down. It makes it essential. It works as the preface to your thesis statement by making it sound valid. For example, if your thesis statement discusses the negative effects of modern video games, your introduction part will have to provide clear stats along with the significance of this problem for society and/or educators.
It is a well-known fact that college professors start paper evaluation by taking a closer look at your introduction, thesis statement, and the final part of the paper. It is another reason why setting the clear purpose of the introduction matters for your paper's success and recognition.
Your assignment can be completed in 3 hours!
Has your deadline come quicker than you expected? No worries! We have what you need – a 3-hours deadline option! All features available for any other order applied, including:
100% original assignment
Free formatting and reference list
24/7 online support
Writing an Introduction is Not That Hard
The most important is to understand your assignment structure. It means that you should not apply the same methods when dealing with your research paper or writing a compare-and-contrast essay.
Most importantly, it must be clear and convincing, including:
A Strong Introductory Hook Sentence.
Your Paper's Purpose.
An Explanatory Element.
The Importance of Your Topic.
Link to Your Thesis Statement.
If this kind of work sounds too confusing, you should ask yourself why this topic matters to you and why you have chosen it. Remember that your introduction should be about 10% of the total paper, not counting your thesis statement sentence. If you are not sure about your introduction's content or do not know which structure would fit better, consider approaching assignment writing help. It is only natural to feel lost when starting with your paper.
What Makes a Good Introduction?
Of course, the rules always differ, and we have our opinions that will not match everyone's taste. Yet, the academic standards regarding how to write an introduction are quite clear. Coming up with a great introduction for assignment, make sure that it:
Highlights the importance of your subject.
Provides a definition of the topic you discuss.
Offers the reasoning why you approach your topic.
Provides an overview of your methodology or scientific approach.
Highlights the major points you would like to discuss.
Introduces your thesis.
Provides statistical data and the purpose of your methodology.
Makes the audience inspired.
Do not forget that even your creative writing tasks must have an inspiring introduction that talks about your purpose of writing.
By following the initial instructions outlined in this guide, you'll be able to provide impactful statistics, introduce your topic effectively, and lead your readers towards a compelling thesis in your assignment's introduction.
An Example of Introduction for Assignment
Let us take the topic of Special Education and Dyslexia as an introduction example: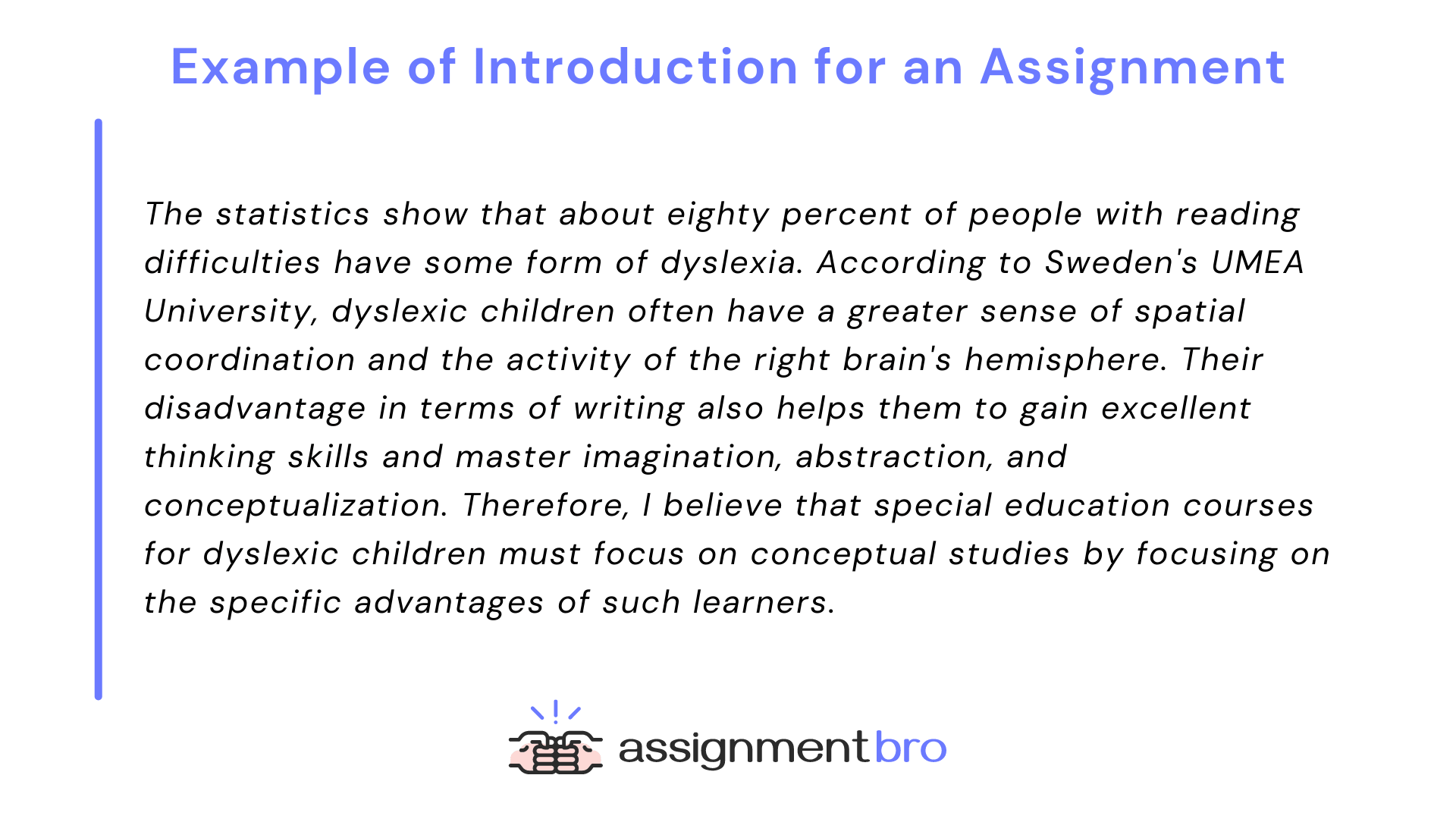 As you can see, the introduction provides statistics and introduces the topic by leading it to a strong thesis (the last sentence).
Useful Resources to Get Ease Your Intro Writing
Here is the list of helpful resources that you can use as you are brainstorming various ideas or think about how to come up with a perfect introduction for your essay:
Quillbot. A paraphrasing tool that can help when your introduction just doesn't feel right.
Grammarly. A great tool to shape your introduction and bring it to perfection by polishing all the messy ot incorrect parts..
Wordsmith. It helps to turn statistics into an insightful narrative. Try it out!
Alternatively, if you need something stylish or you are facing challenges with your grammar as an ESL student, consider checking an affordable assignment service in the UAE. It can provide you with all kinds of writing assistance and proofreading to keep you safe and your introduction perfect!
Find the writer according to your requirements
AssignmentBro is a team of experienced writers in any field of academic research
We thoroughly choose writers with advanced multistep selection process
Our writers work according to the highest academic standards