Evolution Topics for Assignment Writing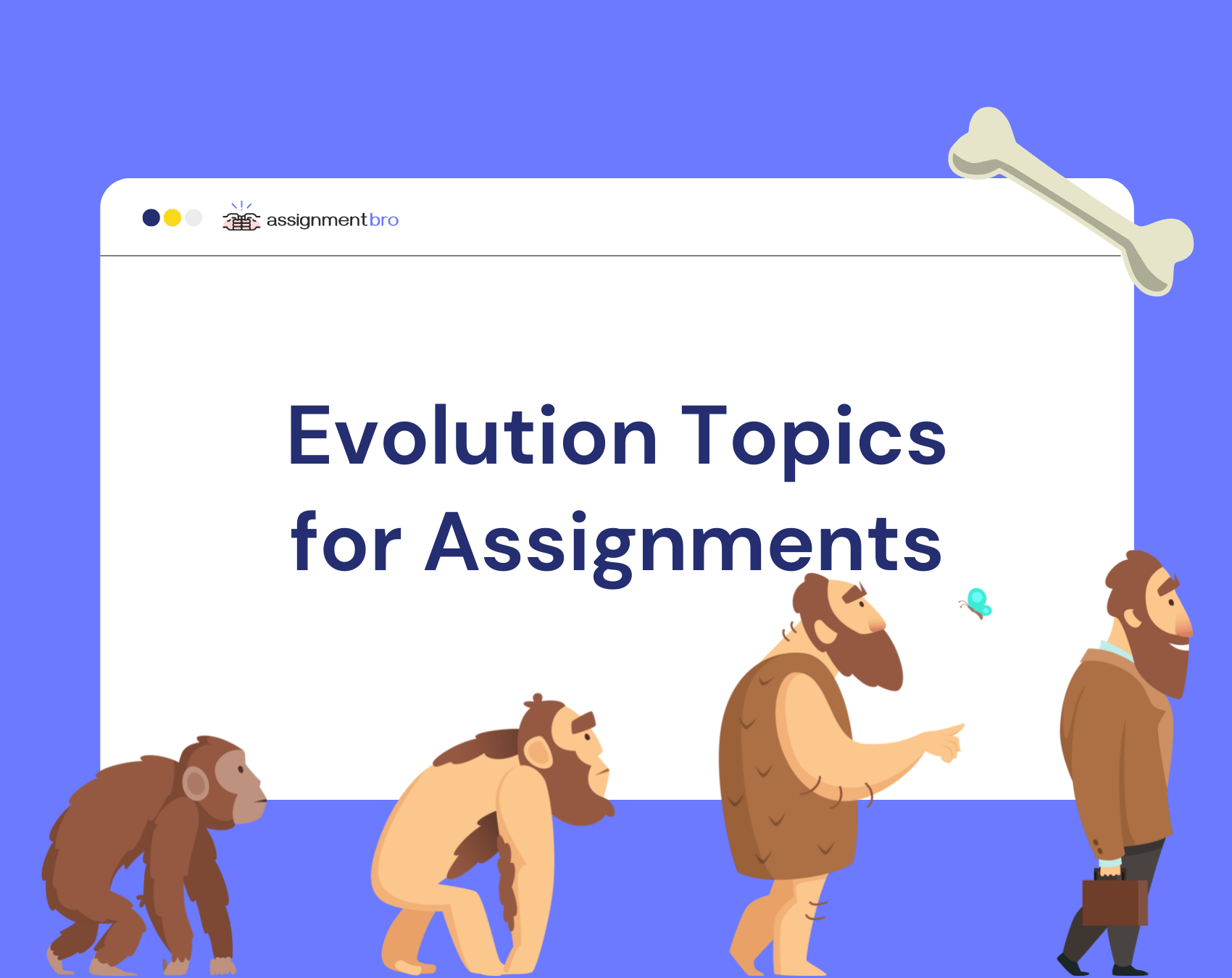 Evolutionary science is the study of how organisms change over time, and how that changes the environment and other organisms. This can be applied to a variety of fields, including medicine, ecology, biology, and genetics.
Evolutionary science is a field of study that seeks to explain how organisms change over time through processes of natural selection. The theory of evolution states that all life on Earth shares a common ancestor, which means that all species have evolved from one another through natural selection. Evolutionary science studies how organisms change over time as they adapt to their environments in order to survive and reproduce.
Why does Evolution necessary for learning?
Evolutionary science research is important because it helps us understand why we do the things we do. It helps us understand our own existence as humans. We are a species that has evolved over time, and understanding our evolutionary past can help us understand what makes us unique as humans and how we've been able to survive and thrive on this planet for so long. Evolutionary science research also allows us to make better decisions about our lives and the world around us. 
Evolutionary science research provides insight into other species around us. By studying their evolution, we can learn about how they've adapted to their environments over time and what makes them different from other species. This knowledge can help us better understand the world around us and how we fit into it. Finally, evolutionary science research allows us to make predictions about what might happen in the future based on things that have already happened in the past (i.e., patterns).
Who is studying Evolution?
Evolution is a fascinating subject that has been studied for centuries by many people. Evolutionary biologists have been looking at the genetic and environmental factors that influence the development of species for decades, but students can learn about evolution in many different ways.
Students who are interested in studying evolution may decide to take classes on the subject in college or university. These classes cover everything from basic evolutionary theory to how evolution works on a molecular level. Students who want to learn more about evolution can also choose to enroll in an online course or read a book on the subject.
If you are looking for evolution topics for writing assignments, here are some suggestions for you:
🐒 Human Evolution Research Topics
The study of human evolution encompasses a broad range of topics. This section will introduce you to some essential and valuable research areas that will not leave you and your colleagues indifferent. Here are some common human evolution issues used in assignments:
🗣 Evolution Debate Topics
To get started on your evolution assignment, read through the following debate topics, which will help you get the creative juices flowing.
👩‍⚕️ Psychology of Evolution
Psychology of evolution is a fascinating topic to study. Take advantage of the opportunity to do some research on this topic. Here are some topics for you:
🦠 Bacteria, Viruses, and Genome Evolution
Bacteria and viruses are considered to be the most successful organisms on Earth. They have adapted to almost every environment, from deep sea vents to hot springs. Some are even found in humans, but these are usually beneficial and even necessary for our health. The following are some common topics that can be used for assignments:
Your assignment can be completed in 3 hours!
Has your deadline come quicker than you expected? No worries! We have what you need – a 3-hours deadline option! All features available for any other order applied, including:
100% original assignment
Free formatting and reference list
24/7 online support
🪴 Current Topics in Ecology and Evolution
The best way to stay current on topics in ecology and evolution is to keep abreast of the latest research and news. However, we have provided this list of current topics for you.
🐅 Animal Evolution
When dinosaurs were wiped from the face of the planet, mammals started to evolve into their own separate species. While many mammals suffered a similar fate as the dinosaurs, some flourished into fantastically different animals. Let's talk about the creatures that had once been so much alike.
🔍 Сontroversial Topics Evolution
Study of evolution is an exciting field to study. Let's explore some attractive themes of evolution that can be used as evolution assignment topics for students studying this subject in school or any other academic institution.
🌳 Humanity and Evolution Topics
The study of ecology and the study of evolution are closely linked. The way in which living things interact with each other and their environment is key to understanding evolution. Here are topics for you about these incredible sciences.
Evolutionary science research is not easy
The reason for this is that evolution is a very complex process. It involves many factors, from genetics to habitat and environment, and it's difficult to isolate the exact factors that lead to evolutionary changes. Additionally, there are many different types of evolution, and each one has its own set of variables that need to be studied.
As such, it can be challenging to determine what factors were responsible for evolutionary change in a particular species or population. This can make it hard to conduct studies on evolution because you might be looking at the wrong things or using improper methods.
Choosing a research topic for your evolutionary science studies can be a challenge. How do you know which one will be right for your needs? The answer is simple: use the AssignmentBro anthropology assignment writing service!
AssignmentBro offers an expert team of writers who can assist you with any topic or question that arises during your research.