The Ultimate Guide to Traveling with Kids
Published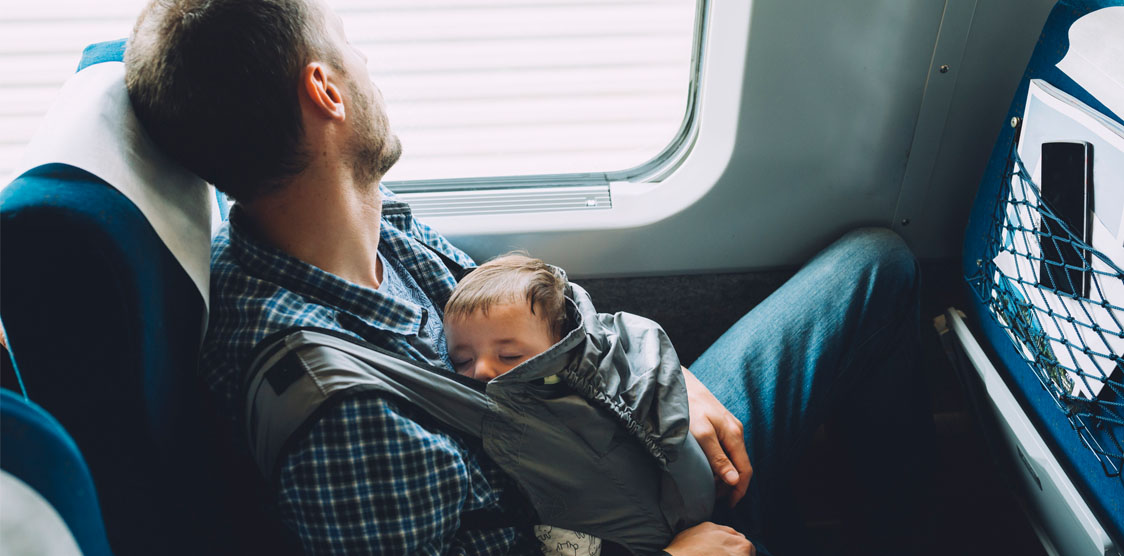 With these tips from family-travel experts, you'll be able to sidestep the struggles that come with kid travel and give yourself a chance to truly chillax on your next vacation.
1. Book a Suite Within Your Budget
Even if you don't think you need a lot of space because you'll be sightseeing most of the day, a standard room with two double or queen beds will come back to bite you at night. Picture it now: Once the kids are asleep at 7:30 p.m., you'll do everything in your power to keep them that way, even if it means fumbling around in the dark and turning off the TV. "Be honest with yourself. Would you be rested or happy after seven nights of this? I wasn't," says Summer Hull, a mom of two.
Expert tip: Opt for a suite
Staying in a suite is a game changer, and you don't have to blow your vacation budget if you zero in on hotels like Residence Inn by Marriott, Homewood Suites by Hilton, Hyatt House, and Embassy Suites by Hilton. One-bedroom suites at most locations have a master bedroom with a door that separates it from the living room, which contains a sofa bed, another TV, and enough space to set up a portable crib. If you opt for a two-bedroom suite at the Residence Inn by Marriott, you'd nab an extra bathroom, too, for a rate that's on par with what you'd usually pay for a room with two queen beds at the Renaissance Hotels or Westin Hotels & Resorts.
Expert tip: Look into time shares
For trips to Walt Disney World, in Orlando, and Aulani, a Disney Resort & Spa, in Hawaii, Hull buys time-share points from David's Vacation Club Rentals. "We stayed in a three-bedroom villa at Disney's Polynesian Village Resort for half the price we'd pay booking directly through Disney," she says. (Yep, you can still reserve ride passes and restaurant meals as usual.) Similarly, she's bought points to stay at a Westin Vacation Club time-share in Hawaii for far less than the going rate. Renting a house or an apartment is, of course, another solution if you're not wedded to hotel perks like free breakfast and on-site maintenance should something go wrong.
2. Outsource Some of Your Packing
You can avoid one of the major pain points of flying with a baby or a toddler by renting gear at your destination rather than dragging it cross-country. Babyquip.com vets locals in 500 U.S. and Canadian cities who will bring you a crib, a high chair, a stroller, a car seat, toys, and other essentials. Many offer a discount for bundled items.
 For non-gear needs, 
Totts.co
 delivers a package with diapers, wipes, baby lotion, sippy cups, and first-aid supplies to your location in the U.S. and parts of the Caribbean. You can customize it (choose the size and brand of diapers, for instance) and select add-ons (like baby sunscreen). Five nights' worth of goods costs around $100. That's about the same price as buying the items and checking an extra suitcase.
3. Stay In One Place
While road-tripping down the California coast or country-hopping in Europe is wonderful in its own way, vacations where you can chill in one place and there's something for everyone to do tend to be the happiest for many families, says Amy Alipio, an editor at National Geographic Travel. You're not as likely to get frazzled by delays, and you can really settle into your vacation vibe. After all, research shows it takes at least two days to unplug. Says Alipio: "My family had a great recent trip to Quebec, where we stayed in an apartment in Montreal and just hung out feeling like locals, eating take-out sandwiches from Schwartz's and getting breakfast from Tim Hortons."
4. Spend Time Now to Avoid Waiting Later
Nothing leads to a meltdown faster than a long line. And snacks will buy you only so much time. Instead, try these jump-the-line strategies:
At the Airport: You and your partner won't regret spending $85 each, applying online, and making an in-person appointment to get TSA PreCheck and sail through airport security for the next five years. (Kids ages 12 and under can tag along with you free.) "Some credit cards reimburse you for all or some of the expense," Hull says. At high-volume airports like JFK or Orlando, PreCheck can save you 40 minutes on an average weekday.
At the Car-Rental Place: It's your last airport hurdle, and by this time, even the most chill kid is losing it. "Join the rental-car company's free loyalty program," suggests Hull. "We did this at Hertz before our recent Hawaii trip, and they had the keys ready for us when we got there, so we didn't have to wait in the line that was out the door."
At Your Hotel's Front Desk: Find out if mobile check-in is an option. Marriott, Hilton, Hyatt, and Disney offer it at many hotels and resorts. You download the brand's mobile app, get your room number, and unlock the door with your smartphone. The kids will be jumping on the bed in no time.
At Popular Attractions: For crowd magnets like New York City's Empire State building, consider buying a CityPASS; the ticket bundle is available for 13 American cities as well as Toronto. You'll save money compared with purchasing tickets separately, but the biggest perk is "priority" or "express" entry at most attractions, which lets you walk past the line. One Parents staffer avoided an hour-long, sun-scorched wait at Chicago's Shedd Aquarium. In Europe, Go City attraction bundles provide "fast-track" entry. Or if you want to visit just one or two sites, such as the London Eye or Amsterdam's Anne Frank House, you can book timed tickets on the attraction's website. You won't regret committing to a time slot, especially during summer when walk-up lines are bonkers.
5. Meet Up with Cousins
Extra playmates take the pressure off you to entertain the kids all day. Hull's kids had a better time on a ski trip to Maryland with their cousins than on a vacation in Colorado with just their parents. (No cousins their age? Vacays with friends work too.)
6. Roll with the Unexpected
Think through what might go wrong, and have a Plan B. For instance, you might want to research play areas at airports in case there's a delay, and put your carrier's app on your phone, so you can rebook quickly if your flight is canceled. In case rain spoils your plans, look into a backup, like a children's museum, bowling alley, or indoor bounce house that will get the kids excited. Disney parks usually clear out on rainy days, so if you don't mind getting wet, you could get a break from the crowds.
7. Bend the Rules
Kids fondly remember little things you let them do on vacation but not at home. "When we're away, my kids sometimes eat dessert for breakfast," says Hull. "They also get to swim at night, a little past their bedtime." And hey, if you get a break from enforcing the rules, you might just enjoy your vacation a lot more too.
8. Consider a Kid-Centric Home-Rental
These vacation home rental sites offer up accommodations with all the comforts of your place—and more.
Stay Alfred Cofounded by a dad of three young kids, this apartment-style lodging in 32 U.S. cities is a particularly great buy in family-friendly San Diego, where you can usually score a two-bedroom, two-bathroom space for less than $200 a night.
Kid & Coe Carefully curated, these dreamy-looking spaces (ranging from a city apartment to a house big enough for a family reunion) are stocked with high chairs, cribs, and toys. You'll find around 500 U.S. listings, but this service really shines in Europe, where hotel rooms tend to be tiny.
Encore Resort at Reunion If you're vacationing in Orlando with extended family, look into renting a big vacation home at this complex. Some options even have bedrooms with Harry Potter, Star Wars, Disney Princesses, and Toy Story themes.
Destination Residences Hawaii Its "condo resorts" on Maui, the Big Island, and Kauai have pools, housekeeping, full kitchens, and a washer-dryer. You can often nab twice the space for the same price as a hotel room. Plus, you'll earn (or you can use) Hyatt points when you book.
Travel Tips for Children With Autism
Kids with autism thrive on set schedules, and vacations in new places far from home can cause discomfort and disrupt routines. With proper planning and organizing, you can help your child adjust, so everyone in the family can travel together.
Traveling with children can be daunting, and when you travel with a child who has autism and requires organized structure, venturing out into unfamiliar surroundings can add an entirely new dimension to the experience.
Autism is a spectrum of neurological disorders characterized by severe and pervasive impairment in various areas of development such as language and social skills. It affects 1 in 88 children, primarily boys, and it is most often detected by age 3. Because children with autism typically require predictability, vacations can be over-stimulating and distressing for the child with autism.
Unfortunately, there are many parents with children on the autism spectrum who are afraid of journeying beyond their own communities. Even thinking about taking a vacation can summon up feelings of trepidation in parents and family members. Caregivers are overwhelmed at the thought of managing quirky, self-injurious, or violent behaviors that their child might exhibit in public; they also fear stares, rude comments, or judgments by others. They may opt, therefore, to keep their special needs child at home.
But traveling with kids who have autism is possible and doesn't have to be difficult. Here are tips that can make your trip a pleasurable one for your child and a positive experience for the family.
Choose the Best Destination for Your Child
Vacations mean transition, which children with autism may find difficult. You have to know your child and have a thorough understanding of his needs first. Children with autism tend not to be socially intuitive, and new experiences can result in meltdowns, so planning what can be executed and enjoyed by your child is imperative. "Children with autism are stress detectors. They sense others' stress and react in ways that are considered an interruption to the planned agenda for the day. For this reason, vacations at the beach or in the mountains, where schedules are often flexible and unhurried, can be ideal for a child with autism," says Rebecca Landa, Ph.D., Director of the Center for Autism and Related Disorders at the Kennedy Krieger Institute in Baltimore, Maryland.
Does your child like amusement parks? Is hiking in your child's comfort zone? Do you find that his sensory issues fade when he's basking in the sun on the beach? No matter where you travel, you should always remember the activities that your child will enjoy. Try not to overload him by bombarding him with too many things to do, as this will cause stress for everyone involved.
Include your children as active partners in the planning. Adapt it to your child's interests, information-processing abilities, and attention span, and relate it to the upcoming trip. Researching the destination and how you're getting there, and talking about accommodations and the kinds of activities that are well suited to your child are all part of planning process.